Strawberry chocolate fudge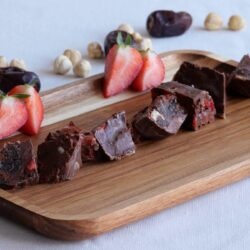 What do you need:
100

grams of

100% cocoa mass or 99% dark chocolate

30

grams of

coconut oil

60

ml

coconut milk

4

dates

50

grams of

hazelnuts or almonds

50

grams of

fresh strawberries
This is how you make this treat:
Put a pan with a layer of water on and heat, make sure to use a bowl that fits on your pan for au bain marie

Add the chocolate, coconut oil, coconut milk, greensweet sweet chocolate and greensweet sweet vanilla to a bowl.

Heat the bowl on the pan with water, until everything is melted together, stirring constantly. Make sure the water does not touch the bowl and the water does not boil.

Has everything melted? Immediately remove the bowl from the pan and let it cool slightly.

Grind the dates, chop the nuts and cut the strawberries into pieces

Fold the dates, nuts and strawberries through the (cooled) chocolate

Pour into a mold and cool in the refrigerator for at least 1 hour.