Chocolate cheesecake with candy bottom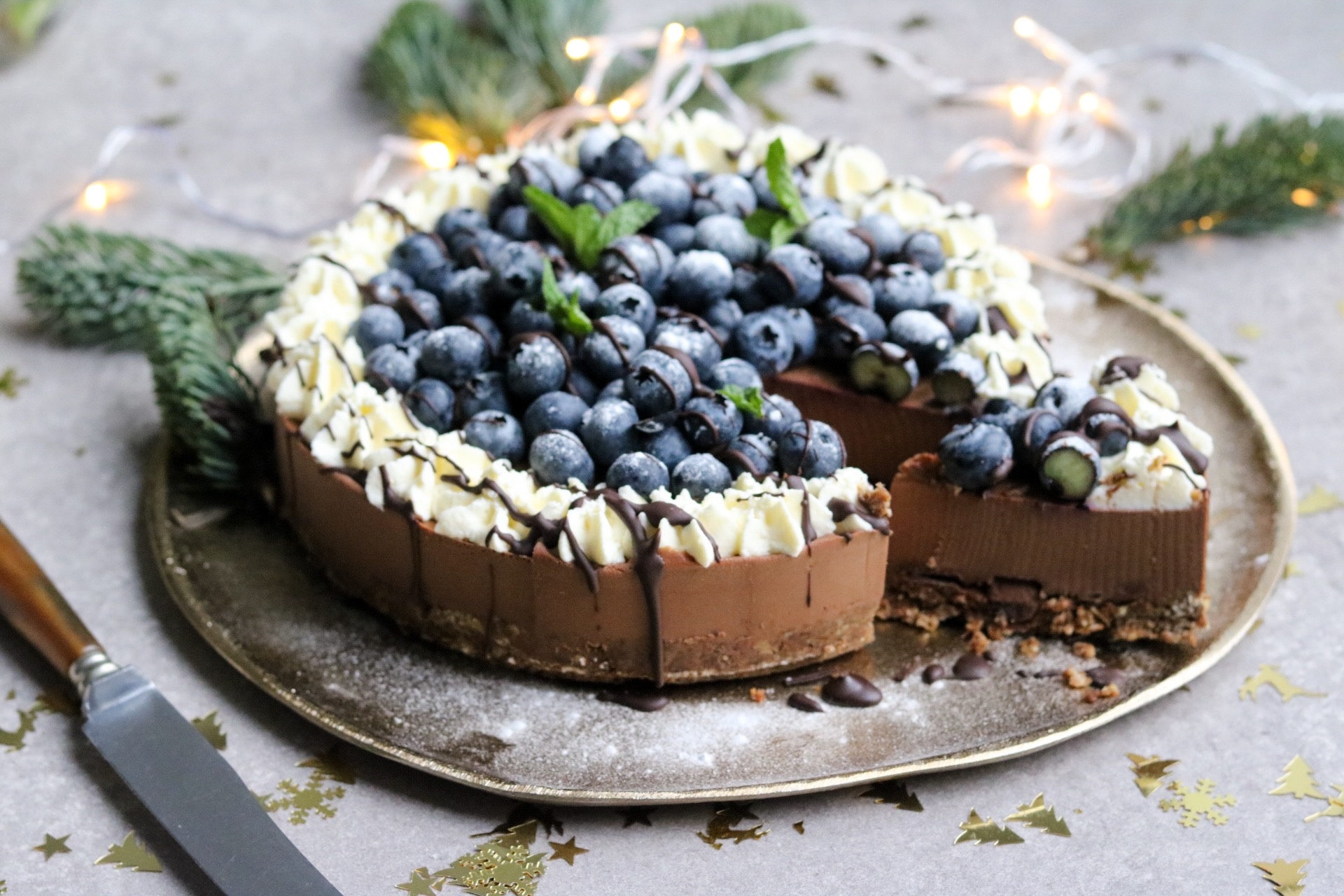 What do you need:
For one cheesecake of 8 to 10 points:
For the bottom:
80 g coconut oil
100 g Medjoul dates
For the filling:
400 g coconut yogurt
2 avocados
100 g dark chocolate (possibly from Greensweet stevia)
50 g of Greensweet Syrup Gold
2 tbsp cocoa
2 g agar agar or 4 sheets of gelatin
For the topping:
Coconut whipped cream or whipped cream
150 g blueberries
* Prefer other yogurt? That is also possible, use a thick, not too sour curd cheese or yogurt of your choice.
This is how you make this delicious cheese cake:
Preheat the oven to 180 degrees. Cover the bottom of the spring form with baking paper and grease the edges with some coconut oil.
Melt the coconut oil in a pan. Crush the pitted Medjoul dates with a food processor. Add the baking mix together with the coconut oil. Grind into a sticky dough.
Spread the dough on the bottom of the spring form. Use the convex side of a cold wet spoon to level the bottom.
Slide the bottom into the oven for a tanning session of about 10 minutes.
In the meantime, get started with the filling.
Melt the chocolate in a bain-marie. Puree the chocolate and the rest of the ingredients for the filling (except the gelatin or agar agar) until smooth with a food processor or blender.
Do you use gelatin? Soak the gelatin leaf until soft. Squeeze them out and heat them with a few tablespoons of water while stirring until they are dissolved. Add the chocolate mixture while stirring. Continue to step 9.
Do you use agar agar? Boil the agar agar with a splash of water, keep stirring well. Add the chocolate mixture. Let the mixture simmer for about 2 minutes. Keep stirring well. Continue to step 9.
Pour the mixture for the filling on the bottom of the cake pan. Slide this into the refrigerator for about 2 to 3 hours so that the filling can stiffen sufficiently.
Garnish the chocolate cake with whips of whipped cream and blueberries. Melt the dark chocolate au bain-marie and put the chocolate in a sandwich bag. Cut the mini tip of the bag and swirl the chocolate over the cake.
Allow the chocolate to harden, slice the cake and enjoy!