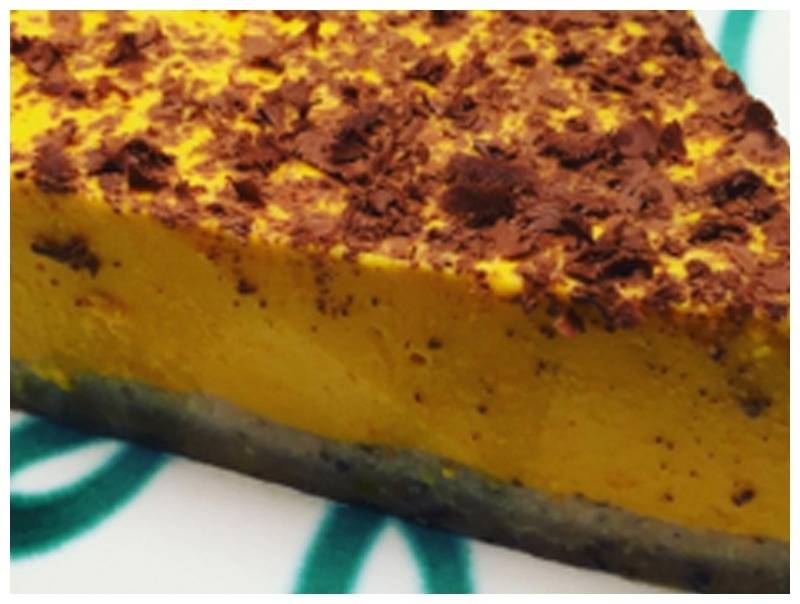 What do you need:
Bottom:
150 grams of almond flour
40 grams of melted coconut oil
5 dates
5 drops Greensweet liquid stevia almond

Filling:
1 small orange pumpkin
1 tsp ginger powder
1 tbsp vanilla extract (sugar free)
25 grams of coconut butter
500 grams of low-fat quark
10 drops Greensweet liquid stevia almond
5 leaves of gelatin
1 block of pure chocolate from Greensweet stevia

This is how you make it:
Cut the pumpkin into pieces, remove the seeds and then cut them into cubes.
Bring this together with a base of water, the ginger powder, the coconut butter and the vanilla extract to the boil.
Cook this covered for 15-20 minutes until done, remove the pan from the heat and put it in the food processor and
mix it into a smooth puree.
If it is still very thin, do it in the pan and let it cook into a solid mass.
Let the pumpkin puree cool down well.

Meanwhile, continue with the bottom, put all the ingredients in a food processor and mix it into a nice firm dough. .Place a baking tin of your choice with baking paper and grease the edges with coconut oil.
Then put this in the cooling.

If your puree is well cooled you can continue with the filling.
Soak the gelatin according to the instructions.
Weigh 250 grams of puree and mix this with the curd cheese and the stevia drops to a nice smooth mass.
Put 2 tablespoons of this mixture in a pan and heat it, then dissolve the well squeezed gelatine.
When the gelatin is well released, mix it with the rest of the curd mixture, stir well together.
Remove your soil from the cooling and pour the mixture on top of it.
Then grate the block of chocolate over the cake and put it for at least 3 hours in the fridge so that it can stiffen well.
Enjoy your meal
Source: www.lifelivelove.nl