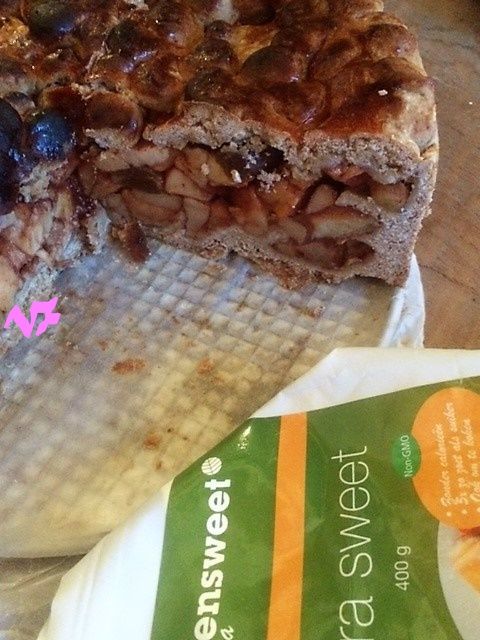 What do you need: for8 - 12 pieces
375 grams of spelled flour,
4 teaspoon of tartar baking powder,
100 grams of coconut oil,
pinch of salt.
Filling:
Extra: some apricot jam or vegetable milk to spread the cake before it goes into the oven.
This is how you make it:
Step 1
Preheat the oven to 180 degrees and line the bottom of a springform pan (18 cm) with baking paper. Grease the edges with vegetable butter.
Step 2
Combine all the dry ingredients for the bottom in a large bowl and mix well.
Step 3
Add the coconut oil to the flour and knead it together with your hands or dough hooks. Is the dough too dry? Then add some vegetable milk.
Step 4
When you have a dough ball, wrap it in cling film and let the dough rest in the fridge for 30 minutes.
Step 5
In the meantime, you can get started with the apples. Peel these and cut into cubes. Add the pieces of apricots to the apple along with the other ingredients and mix well.
Step 6
Take 2/3 of the dough and make the bottom and edges for the cake in the springform.
Step 7
Spoon the apples into the spring form and make a pattern with the rest of the dough for the top. You can make strips, I have experienced flowers with a cutter.
Step 8
Spread the cake with some apricot jam (vegetable milk is also possible) and slide into the oven. The cake is ready after about 50-60 minutes. If it goes too fast, cover the cake with foil so that the top does not turn black.
Step 9
Remove the pie from the oven and let it cool for 10 minutes. Then remove the spring form and let it cool down further.
Step 10
Cut the cake into the desired cake pieces and finish with a dot of vegan whipped cream if desired.
Source / photo: Vegan Flavors