Speculaas galette with apple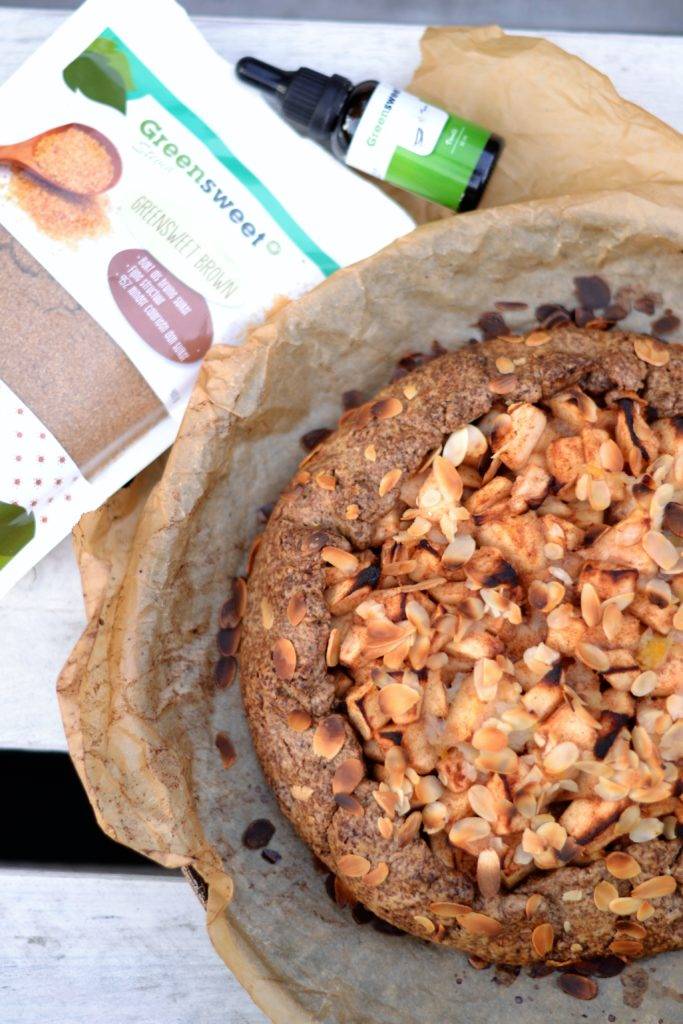 What do you need:
Bottom:
160 grams of vegetable butter (wajang, packet and at room temperature),
250 grams of spelled flour,
1 tbsp linseed + 3 tbsp water (mix in a dish and soak for 10 min),
sniff Himalayan salt,
10 grams of gingerbread spices
6-8 Greensweet liquid vanilla (to taste) .
Filling:
3 apples (600 grams diced),
1 teaspoon of gingerbread spices,
1 teaspoon of cinnamon,
juice of a ½ lemon,
2 tablespoon oatmeal,
10-12 el pear sauce *,
½ el almond milk and some almond shavings.
* Pear: 700 grams of pears (peeled and diced), 2 nectarines (peeled and pitted). Everything in a saucepan with a dash of water. Bring to the boil. When it is soft, drain off excess water and puree. You keep pear sauce!
This is how you make it:
Step 1
Preheat the oven to 220 degrees and cover a baking tray with parchment paper.
Step 2
Put the Greensweet brown, spelled flour, gingerbread spices and salt in a large bowl and mix well.
Step 3
Grab the wajang butter and cut into small pieces. Add this to the flour together with the broken linseed paste and the Greensweet liquid stevia vanilla. Knead a dough ball with your hands.
Step 4
Wrap the dough ball in cling film and leave to rest in the refrigerator for 30 minutes.
Step 5
In the meantime, get started with your apple mixture. Wash the apples and cut them into 4 parts. Remove the core and cut into small blocks. Add the gingerbread spices and cinnamon over the apple and hussel well together. Mix 10-12 tbsp. Pear juice through the apple mixture.
Do you also want to add notes? Do this now.
Step 6
Take your dough ball out of the fridge and press a large circle on the baking tray. Your dough may be 1 to 2 cm thick. In the middle you put down your apple mixture. Make sure you have enough space left to fold the dough inwards.
Step 7
Spread the edges with some almond milk and sprinkle some almond shavings over it. Put your cake in the oven and after about 25-30 minutes your cake is ready.
Step 8
Allow the cake to cool for at least 20 minutes. When you let the cake cool completely and keep it in the fridge, your bottom is nice and firm.
Source / photo: Manon from Vegan Flavors (@veganflavours via instagram)