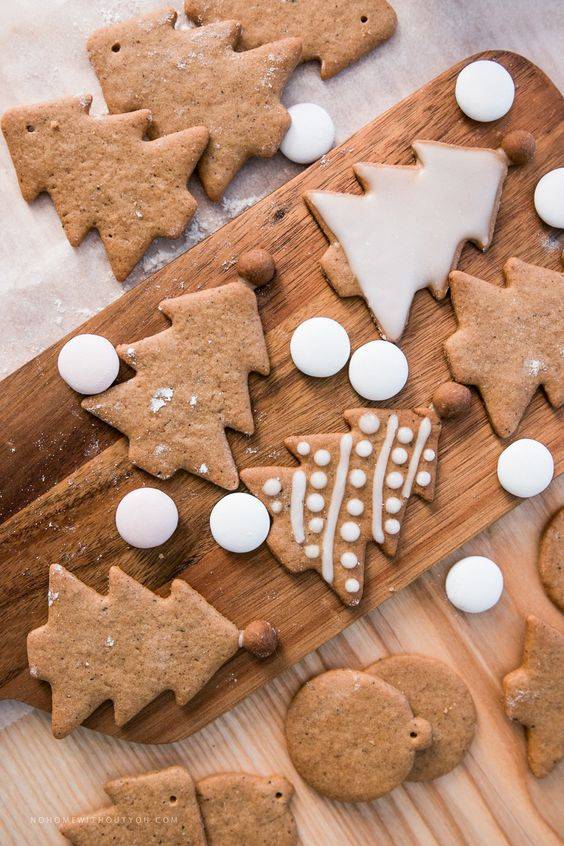 What do you need:
Butter to grease
1 orange
350 grams of self-raising flour
4 drops greensweet liquid stevia cinnamon
200 grams of butter
1 egg
100 grams greensweet Erythritol or 20 grams greensweet extra sweet
flower to pollinate
125 grams Greensweet Icing
1 tbsp. chopped candied orange shreds or silver peels (as decoration)
ribbon or cord
Preparation method
Preheat the oven to 160º C. Grease a baking tray. Clean the orange, grate 2 teaspoons of the peel and press the fruit. Mix the flour with 3 drops greensweet liquid stevia cinnamon. Add the butter into cubes and form a crumbly dough with a cool hand. Beat the egg and add it with the greensweet Erythritol (or extra sweet) and orange zest through the flour mixture. Knead everything into a smooth dough.
Roll out the dough on a floured surface to a ½ cm thick cloth. Put out pine trees or stars and put them on the baking sheet. Put a large hole in the dough if you want to hang the cookies in the Christmas tree. Bake the cookies in the middle of the oven in 10-12 minutes until golden brown and done. Allow them to cool slightly so that they are firm before removing them from the baking tray.
Mix the Icing, 1 drop greensweet liquid stevia cinnamon and 2-3 tablespoons of orange juice into a thick glaze. Brush the cookies with this and divide the decoration. Thread a ribbon or cord through the cookies and hang them in the tree