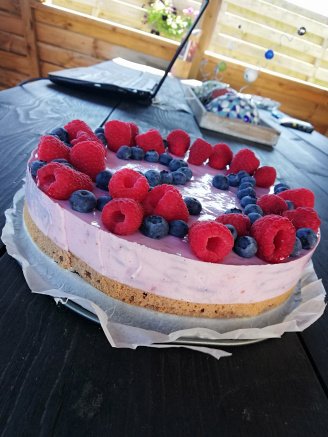 What do you need:
Bottom
250 grams cannellini beans (already drained)
30 grams of chocolate protein powder
1 tablespoon of cinnamon
1 teaspoon baking powder
2 proteins
Cottage cheese layer
600 grams of low-fat French cottage cheese
30 grams of vanillaprotein powder
6 gelatine sheets
125 grams of blueberries
250 grams of raspberries
If you do not have protein powder, use oatmeal, wholemeal flour or another flour mixed with cocoa for the soil. Then keep 50/50, half flour and half of cocoa. If you do this you will need 50 grams greensweet erythritol to make the soil sweeter.
How to make the cake
Preheat the oven to 175 degrees
Rinse the drained cannellini beans well and let them drain well. Then you do this in the food processor together with the proteins. Mix this until a smooth batter exists. Make sure that there are no pieces or loose beans to be seen, because that is not good in the pie.
Then do the rest of the ingredients for the soil and mix it until it is well mixed. Then divide this over your cake mold and put it in the oven for 30 minutes. When it is ready, take it out and let it cool completely.
Now it's time to make the quark layer. Put the gelatin leaves in a container with water so that they can soak for a while.
Then cut half of the box of raspberries and half of the box of blueberries into small pieces and put them in a pan with about 3 tablespoons of water. Put this on the fire and keep stirring. Make sure that most of the water has evaporated and then you can add the gelatine. Add the gelatine sheets 1 for 1 and make sure you first squeeze them well before you add them. The gelatin leaves dissolve by the heat automatically.
Put the cottage cheese, erythritol and the protein powder in a container and mix this into a smooth whole. If all gelatine is dissolved properly, you can pass this mixture through the curd mixture.
When the cake base has cooled down well, you can pour the curd layer over it. The cake will then leave you in the fridge for about 2 to 3 hours and then you can decorate the cake with the leftover fruit.
And the cake is ready to be eaten. Let me know if you have made this cake, eat tasty!
Greetings Tiffany