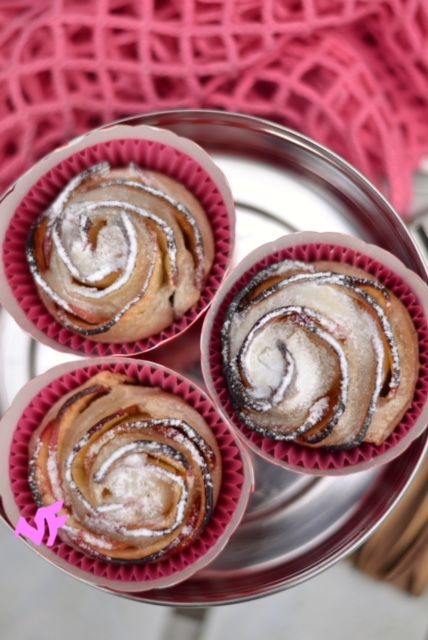 What do you need:
1 packet of vegan puff pastry (thaw slices),
1-2 apples (washed and cut into thin slices),
Juice 1 lemon + boiling water.
This is how you make it:
Step 1
Preheat the oven to 220 degrees, prepare the cupcake holders. You put the lemon juice + boiling water in a deep plate.
Step 2
Cut the apple into 4 parts. Remove the core and scrape thinly. Place the apple slices in the plate with lemon and water. Let the apple slices soften in about 10 minutes.
Step 3
Cut the thawed puff pastry sheets in half. Stick the two halves together so that you get a long strip.
Step 4
Place the apple slices on a piece of kitchen paper and pat them dry.
Step 5
You place the apple slices on the puff pastry, the apple slices (with peel) come out slightly above the puff pastry. The apple slices are half on top of each other.
Step 6
Fold the puff pastry from bottom to top. Now roll the puff pastry with apple. You see that there is now a rose.
Step
Put your apple roses in a cupcake holder and once you've finished them all, put them in the preheated oven.
Step 8
The apple roses are in the oven for about 20-25 minutes. Is it going too fast? Then put some silver foil on the apple florets. This way you prevent the apple from burning.
Step 9
Remove the apple roses from the oven and let cool.
Step 10
Step 11
If you have a boho-tiffin large or salad, you can also easily take it with you on the road.
Source / photo: Vegan Flavors