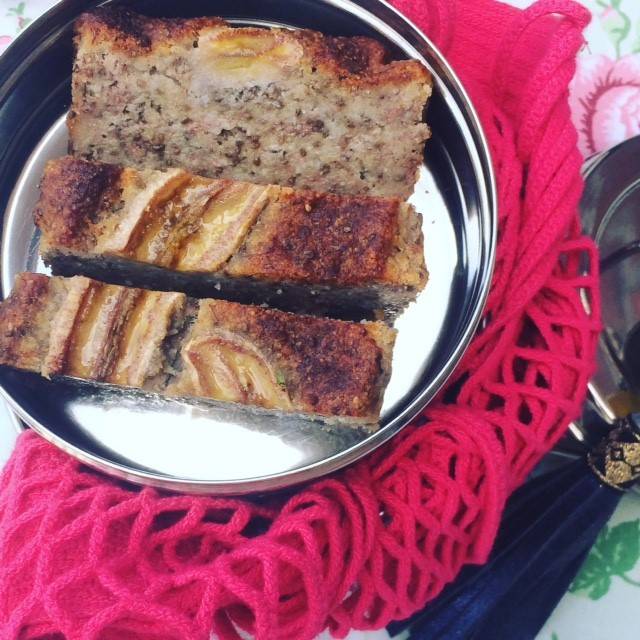 What do you need:
200 grams of coconut flour,
200 ml coconut cream (from a can, scoop out a thick layer),
400 grams of bananas (bananas with brown speckles),
4 teaspoon of tartar baking powder,
8 drops of Greensweet liquid stevia vanilla,
pinch of salt,
1 loose banana
3 tbsp chia seed.
This is how you make it:
Step 1
Preheat the oven to 180 degrees and line a baking tin with baking paper or grease it with vegetable butter.
Step 2
Put the dry ingredients in a bowl and mix together.
Step 3
Mash the bananas in another bowl. Then add the coconut cream and Greensweet liquid stevia vanilla drops. Stir well.
Step 4
Spoon the banana mixture into the flour and stir well.
Step 5
Now pour the banana mixture into the baking tin. Take the loose banana. Remove the skin, cut the banana horizontally and press the banana with the convex side down into the batter.
Step 6
Put the baking tray in the oven and after about 50-60 minutes your coconut banana bread is ready.
Step 7
Take your coconut banana bread out of the oven and let it cool for 10 minutes. Let it cool down further. Don't cut the cake yet! It still feels soft, but with a little patience this will be fine.
Step 8
Is your coconut banana bread well cooled? Does it still feel weak? Then put it in the fridge first. This makes the bread a bit firmer. Then cut it into 12 slices. Keep the bread in the refrigerator. You can also freeze some slices.
Eat with a layer of peanut butter or nut spread. Then put some extra slices of banana on it, mmmmmmmm
Source / photo: Vegan Flavors