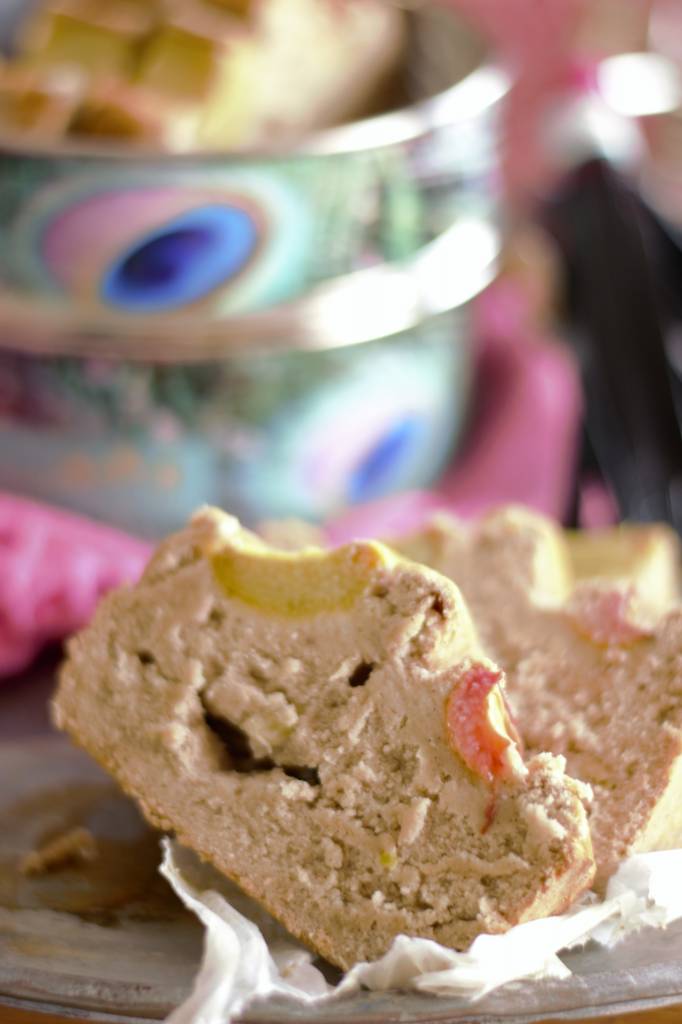 You will need this: (for 10-12 slices)
200 grams of brown rice flour,
50 grams of buckwheat flour,
4 bananas,
2 rhubarb stems,
generous teaspoon of cinnamon,
1 teaspoon of tartar baking powder,
juice of a ½ lime,
and a pinch of salt.
This is how you make it:
Step 1
Preheat the oven to 180 degrees and line a cake tin with baking paper or fat with vegetable butter.
Step 2
Machine: put all ingredients except the rhubarb in the food processor. When you have an even batter, it is ready.
With your hands: mash the bananas in a large bowl and add the wet ingredients. In another bowl put all dry ingredients and then add everything together. Stir well.
Step 3
Spoon the batter into your cake tin and push the cleaned rhubarb on top of the batter.  
Step 4
Your rhubarb banana bread takes about 50-60 minutes in the oven.
Step 5
Remove the bread from the oven and let it cool for 10 minutes. Then take it out of the mold and let it cool further.
Step 6
Cut the bread into 10-12 slices. You can easily freeze the slices separately.
Source / photo: Vegan Flavors