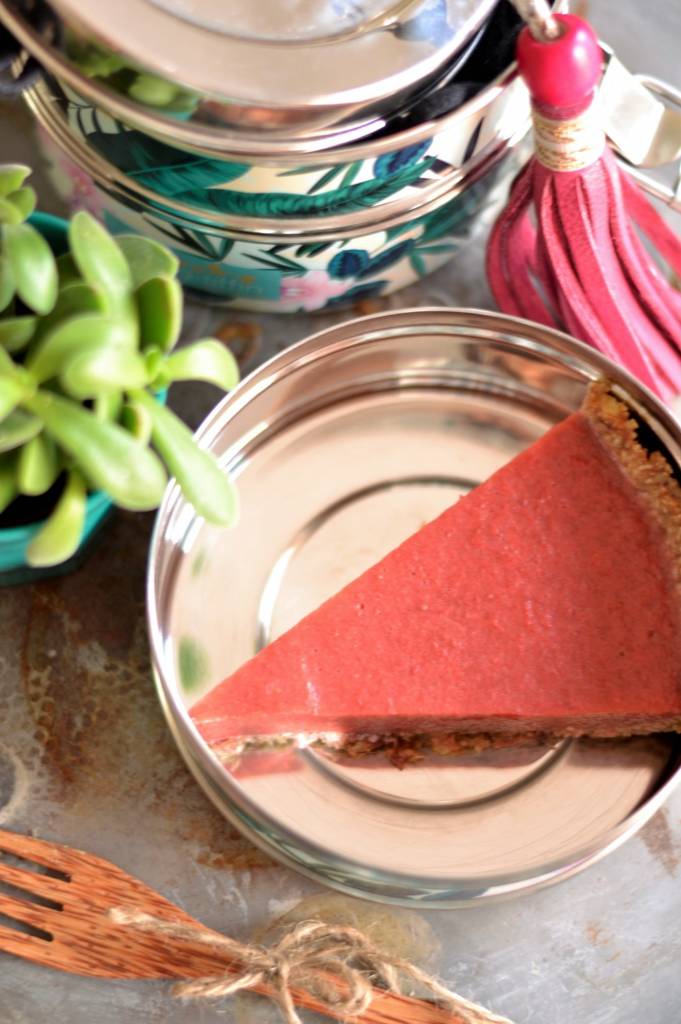 What do you need:
bottom:
250-320 grams of dates (seeded and when hard dates, soak in boiling water)
juice of ½ lime (half a lime grater is also very tasty),
80 grams of coconut grater
80 grams (unsalted) cashews (soak in boiling water for 2 hours).
Filling:
500 grams of rhubarb,
400 grams (frozen) strawberries,
6 grams of agar-agar + 100 ml of water.
This is how you make it:
Step 1
Take a cake pan (I used a quiche pan) and cover it with baking paper. Also make sure there is space in your fridge!
Step 2
Put the soaked dates, cashews, coconut zest and juice in the food processor. If all goes well you get a sticky dough ball. Is it too dry? Then add more dates. Too wet? Then you use a little more coconut grating. Play a little with it myself, I don't know which dates you use.
Step 3
With your dough ball you make the bottom of the cake. Then place it in the refrigerator so that it can cure.
Step 4
Clean the rhubarb and cut into large pieces. Put them together with the frozen strawberries in a pan with a layer of water. Put it on the fire and after about 15 minutes it is ready. Drain and drain. Do you use fresh strawberries? Then you don't have to cook them.
Step 5
Put the rhubarb together with the strawberries and 2 tablespoons of Greensweet Icing in the food processor. Get a smooth smoothie.
Step 6
Take a saucepan and add 6 grams of agar-agar with 100 ml of water. Bring to the boil while stirring. Then add the rhubarb-strawberry mixture. Continue to stir well for 2 minutes.
Step 7
Take the bottom from the refrigerator and pour the rhubarb-strawberry mixture onto the bottom. Now put in the fridge and let it set. After 2-3 hours your cake is ready to be cut.
Step 8
Cut the number of points you want from the cake. You can also freeze the cake (in separate points).
The cake can be kept in the fridge for about 3 days.