Rhubarb dessert with cream (sweet rhubarb soup)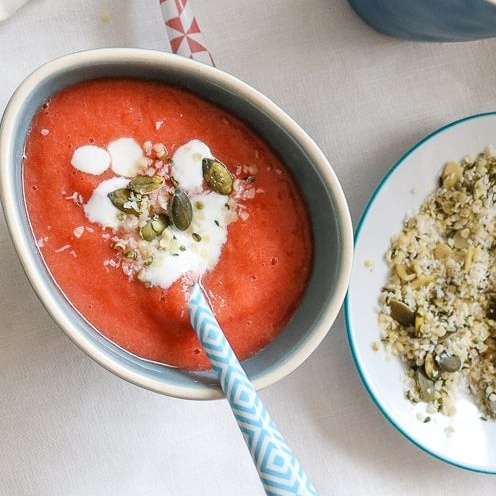 What do you need:
450 grhubarb9 khd
5 cm freshginger 
grater of a smalllime 
400 ml ofwater 
pinch ofsalt 
10 g *Greensweet jelly crystal
200 grstrawberries10 khd
2 tbspGreek yoghurt1.6 khd
1 tbsp thickcoconut milk0.24 khd
TOPPING, SEE BELOW
This is how you make it:
Clean the rhubarb and cut the stems into 4 cm pieces.
Grate the ginger and the zest of the lime. I use a piece of frozen ginger. Just a piece of peeling and grating what you need the rest goes back into the freezer. Ideal!
Cook the rhubarb together with the grated ginger, lime zest, a pinch of salt and the Greensweet jelly sugar until tender in a bottom of water. About 6-7 minutes, then the rhubarb starts to fall apart.
Remove the crowns from the strawberries. Puree them together with the rhubarb with blender. Taste and add more sweetener as desired.
Mix the yogurt with the coconut milk. Pour into small bowls and garnish with Greek yoghurt-coconut cream and sprinkle with a topping as below. For other tips, see the text. Both hot and (ice) cold tasty!
Topping: mix pumpkin seeds with some coconut grater and hemp seed.
NB: I use Greensweet jelly sugar (with agar-agar), which also binds.