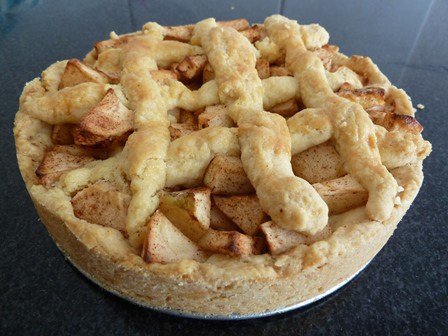 What do you need:
150 grams of self-rising flour
100 grams of butter
8 drops of Greensweet liquid stevia caramel
1 small egg
2 Elstar apples
Cinnamon
1 tablespoon custard powder or breadcrumbs
Springform of 18cm
This is how you make it:

Preheat the oven to 180 degrees.
Use a mixer with dough hooks.
Mix the butter with 6 liquid stevia drops.
Sift the self-raising flour and add it.
Add half of a loose beaten egg.
Mix the whole into a cohesive dough and let it rest for fifteen minutes in the refrigerator.
Peel the apples and cut into small cubes.
Mix the apple cubes with cinnamon and 2 liquid stevia drops caramel.
Line the bottom and the side of the spring form with the dough. Keep a portion of the dough for the top.
Sprinkle the custard powder or breadcrumbs on the bottom.
Add the apple cubes.
Make strips of the remaining part of the dough and place it crosswise on the apple cubes.
Bake the apple pie in 45 minutes.