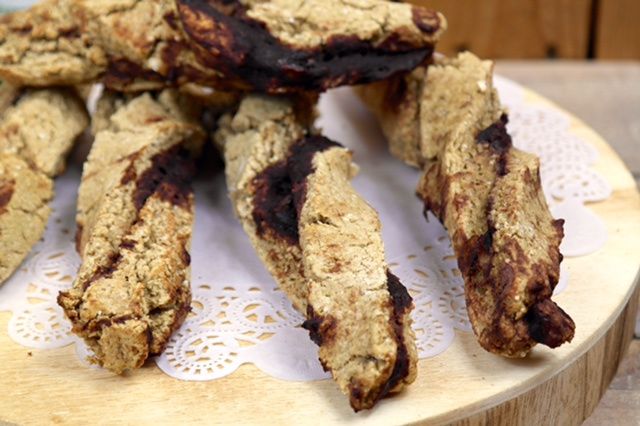 YOU NEED THIS:
375 grams oatmeal flour (finely grind oatmeal in a blender
10 drops greensweet liquid stevia chocolate
10 drops greensweet liquid stevia vanilla
10 grams (tartar) baking powder
a fresh egg
100 ml of warm water
For the filling:
a big banana, nicely practiced
two tablespoons of organic skimmed cocoa powder
SO YOU MAKE IT:
Preheat the oven to 180 degrees. Line a baking tray with baking paper. Stir the cocoa powder through the banana. Stir together all the ingredients for the dough in a bowl, until you can manually remove it from the spoon. Knead into a dough ball and let rest for 5 minutes. Halve the dough.
Roll the two parts into two flat slices with the rolling pin. Spread a slice with the banana paste and place the other slice on it. Cut into thin strips. Turn each bar a quarter of a turn and place on the baking tray. Fry the twirls in the middle of the oven until done in about 20-25 minutes, keep checking. Allow to cool.
Source / photos: Monique van der Vloed