Baked mussels with summer sauerkraut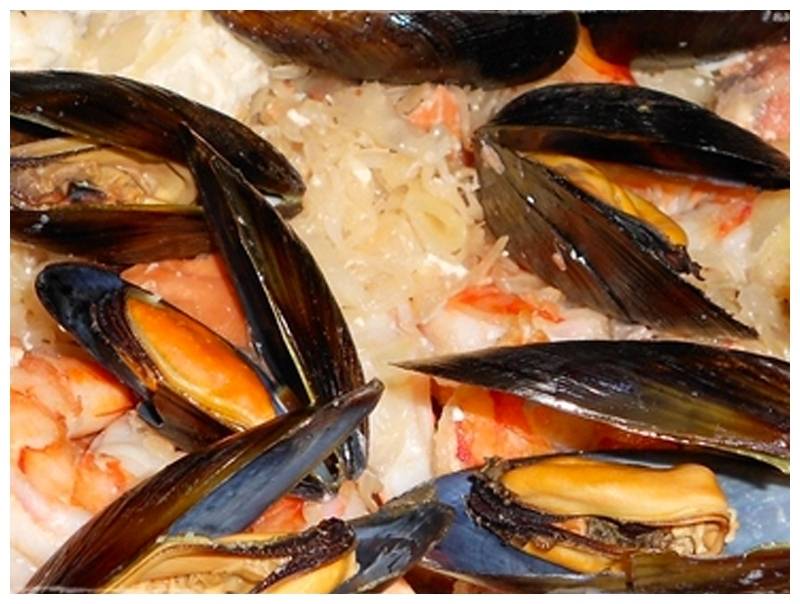 What do you need:

250 - 350 grams of cooked mussels
350 - 400 grams of sauerkraut
60 grams of butter
3 spring onions, with lots of fresh green, cut into small rings
4 tablespoons (not too dry) white wine
6 drops Greensweet-stevia Naturel or 1 tablespoon Greensweet Sweet
2 tablespoons (sunflower) oil
1/2 tablespoons finely chopped (leaf) parsley
1/2 tablespoons finely chopped chives

This is how you make it:

Dry the mussels with kitchen paper. Drain the sauerkraut and remove with two forks. Heat a thick-bottomed pan and allow 30 grams of butter to melt. Spoon the sauerkraut and the spring onions. Pour the wine over and wait until everything has boiled. Temper the heat source. Add Greensweet-stevia. Place the lid on the pan and let it simmer for 12 - 15 minutes. Heat a wok and let the oil roll around. Do not bake the mussels for much longer than 3 minutes under continuous shoving. Add a knob of butter at the last minute (the remaining 30 grams).
Serve tip:

Spoon the sauerkraut as a bed on preheated plates. Arrange the mussels in the middle. Sprinkle with the garden herbs.