Chicken skewer with beetroot mousse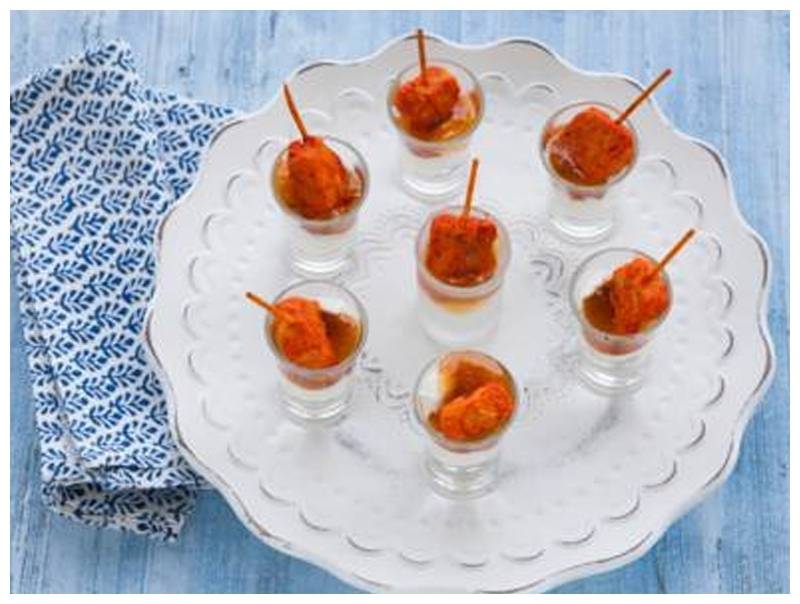 What do you need:
For the chicken:
2 chicken fillets
1 ounce Coburger ham
1 tsp chili herbs (mill of Verstegen)
spoon of tasteless oil
4 drops of Greensweet liquid stevia Natural
Tapas sticks
Beetroot mousse:
250 grams of cooked beetroot
150 ml whipped cream
raspberry vinegar (or wine vinegar, or a few fresh raspberries)
1 tsp Chili herbs
few drops of Greensweet liquid stevia Natural
pepper and salt to taste
This is how you make it:
Cut the chicken fillet into thick strips: about 2 cm. long and 1 cm wide.

Mix the oil with the herbs and the sweetener in a container. Roll the chicken fillet pieces in it. (Few herbs need to be on it, hence mixing with the oil for a good distribution)
Roll the coburger ham in small slices around the chicken and put a tapas skewer in it.
Put a few small cubes of butter in the pan and place the skewers in it. As soon as they start baking, lower the heat and let it cook with a lid on.
Puree the beetroot into a mousse. Beat the cream until stiff and fold it into the mousse. Add the wine vinegar and spices and season the mousse with some Greensweet stevia, salt and pepper. Serve with a bowl of red berries and cress.