Chicken skewer with red beetroot mousse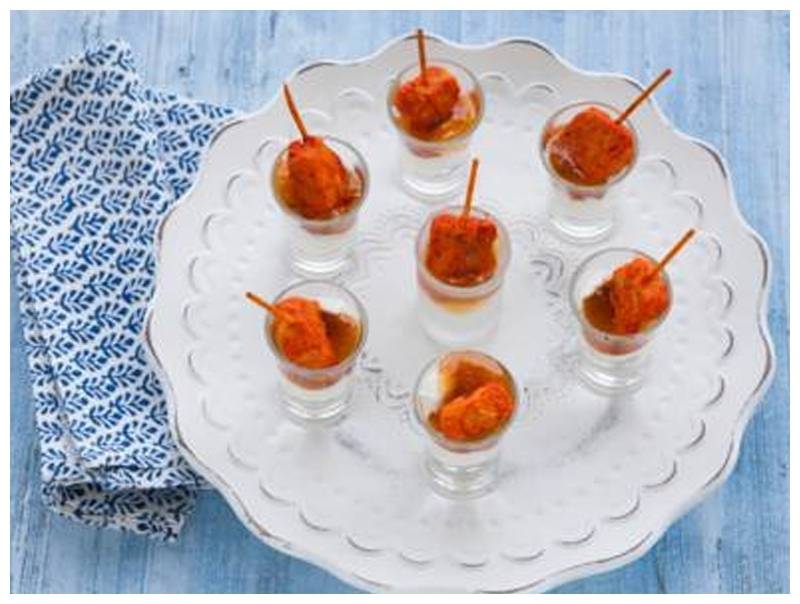 What do you need:
For the chicken:
2 chicken fillets
1 ounce of Coburger ham
1 tsp chilli herbs (Mill van Verstegen)
spoonful of tasteless oil
4 drops Greensweet liquid stevia Naturel
Tapas pricks
Mousse of red beets:
250 grams of cooked beetroot
150 ml of whipped cream
raspberry vinegar (or wine vinegar, or a few fresh raspberries)
1 tsp. Chilikruiden
few drops Greensweet liquid stevia Naturel
to taste pepper and salt
This is how you make it:
Cut the chicken fillet into thick strips: about 2 cm. long and 1 cm wide.

Mix the oil with the herbs and the sweetener in a container. Roll the pieces of chicken breast around. (There is very little herbal to sit, hence mixing with the oil for a good distribution)
Roll the cob ham in small slices around the chicken and insert a tapas prick.
Put a few small pieces of butter in the pan and put the skewers in it. Once they start baking, lower the heat and let it cook with a lid.
Puree the beetroot into mousse. Beat the whipped cream and spat through the mousse. Add wine vinegar and herbs and season the mousse with some Greensweet stevia, salt and pepper. Serve the whole with a bowl of red berries, and cress.