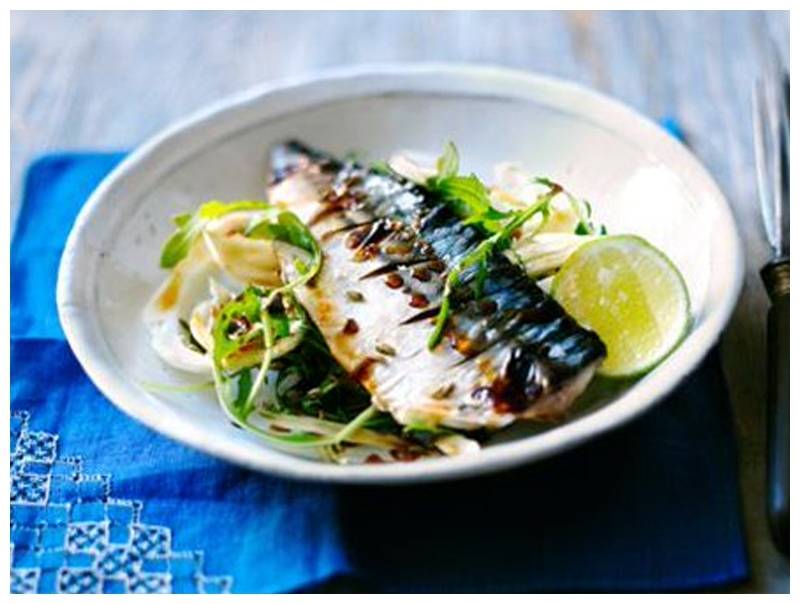 What do you need:
6 fillets of (day) fresh mackerel
4 tablespoons sake, Chinese rice wine or dry sherry
2 tablespoons Japanese soy sauce
14 drops of Greensweet stevia Natural
2 tablespoons lime or lemon juice, sieved
2 tablespoons (peanut or sunflower) oil
possibly some salt
1 lime or small lemon
2 - 3 branches of celery root

This is how you make it:
Rinse the fillets under running cold water. Then dry them with kitchen paper. In a wide bowl, mix sake, Chinese rice wine or dry sherry, Greensweet stevia and lime or lemon juice.

Place the fillets in the marinade. Leave them in for 2-3 hours. Turn the fillets from time to time so that the marinade can retract well. Heat a grill pan or plate (or on the BBQ).

Spread a little oil on it with a brush (or a dot of kitchen paper) (not on a BBQ). Dry the fillets again with kitchen paper and brush them with a brush with oil. Roast the fillets for 5 - 6 minutes on both sides until golden brown and just done.

Sprinkle the fillets with some (sea) salt. Bring the rest of the marinade to the boil in a pan. Let it simmer for 3 - 4 minutes. In the meantime, cut the clean waxed lime or lemon into 6 parts. Remove any seeds.

Serve tip:
Divide the roasted fillets on preheated plates. Arrange the lime or lemon wedges together with the celery leaves next to it. Serve the hot marinade in small single bowls. The lime or lemon wedges and the marinade are over the fish.