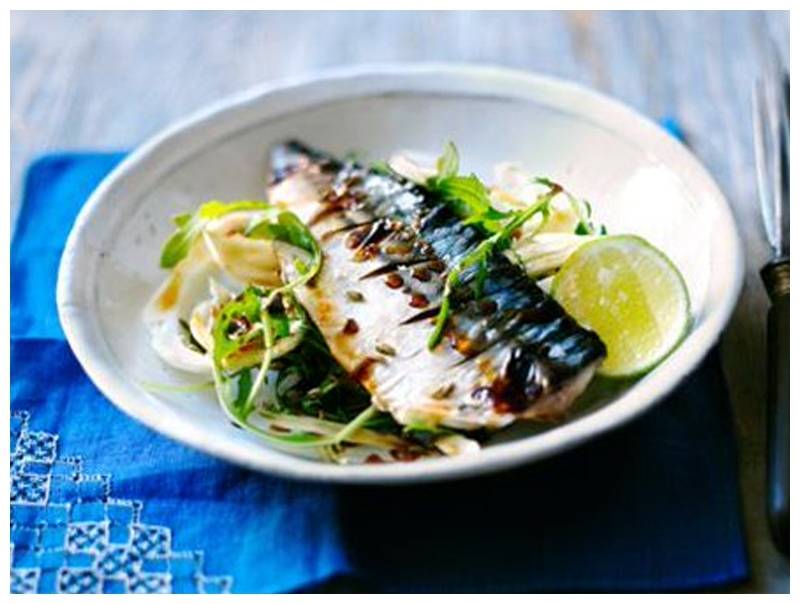 What do you need:

6 fillets of (day) fresh mackerel
4 tablespoons of sake, Chinese rice wine or dry sherry (fino)
2 tablespoons of Japanese soy sauce (eg Kikkoman)
approx. 14 drops Greensweet-stevia Naturel
2 tablespoons of lime or lemon juice, sifted
2 tablespoons (peanut or sunflower) oil
possibly. some salt
1 lime or small lemon
2 - 3 sprigs of celeriac

This is how you make it:

Rinse the fillets under running cold water. Then dry them with kitchen paper. Mix in a wide bowl sake, Chinese rice wine or dry sherry (fino), Greensweet-stevia and lime or lemon juice.

Put the fillets in the marinade. Leave them for 2 - 3 hours. Turn the fillets from time to time so that the marinade could withdraw well. Heat a grill pan or plate (or on the BBQ).

Spread a little oil with a brush (or a dot of kitchen paper) (not on BBQ). Dry the fillets with kitchen paper and brush them with a brush with oil. Roast the fillets on both sides for 5 - 6 minutes until golden brown and just cooked.

Sprinkle the fillets with some (sea) salt if necessary. Bring the rest of the marinade to a boil in a pan. Let simmer gently for 3 - 4 minutes. Meanwhile cut the cleanly polished lime or lemon in 6 parts. Remove any seeds that may be present.

Serve tip:

Divide the roasted fillets over preheated plates. Arrange the lime or lemon wedges along with the celeriac next to it. Serve the hot marinade in small one-person bowls. The lime or lemon wedges and the marinade are over the fish.