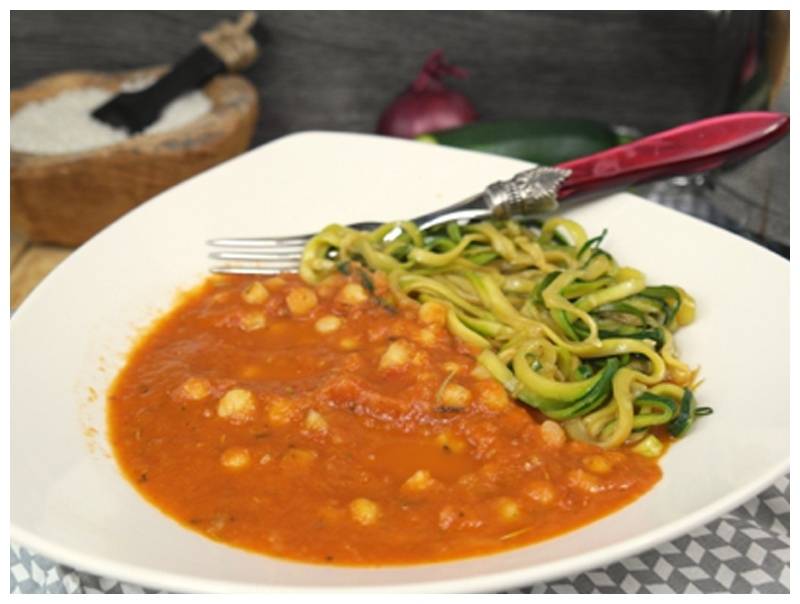 You need this:
1 large zucchini, washed and in the skin, cut off "butts" (preferably organic courgettes)
TeriYaki sauce (organic, without additives)
a pinch of celtic sea salt

Side dish:
250 grams of soaked / cooked chickpeas, drained

For the sauce:
1 small zucchini, washed and peeled, cut into small cubes
1 red onion, finely chopped
400 grams of tomatoes, cooked and peeled
a hefty pinch of celtic sea salt
1 tablespoon lovage root
a small piece of fresh ginger root, grated
1 tablespoon marjoram
1 tablespoon tarragon
2 drops of Greensweet liquid stevia natural

This is how you make it:
Melt a lump of coconut oil in a frying pan. Cook the courgette strings alternately in about 5-8 minutes. Remove the strings from the pan with a skimmer or spaghetti spoon and drain on a piece of kitchen paper.

Mix all the ingredients for the sauce, except the tomatoes, and add them to the frying pan. Bake everything briefly while you keep stirring. Put the tomatoes in a pan and put on medium heat. Add the mixture and cook for 5 minutes while stirring. Puree everything with the hand blender to a smooth sauce. Add the chickpeas and cook for about 3 minutes. Serve the sauce next to the zucchini strings over two plates.
Source / photo: Monique van der Vloed