Big chocolate chip cookies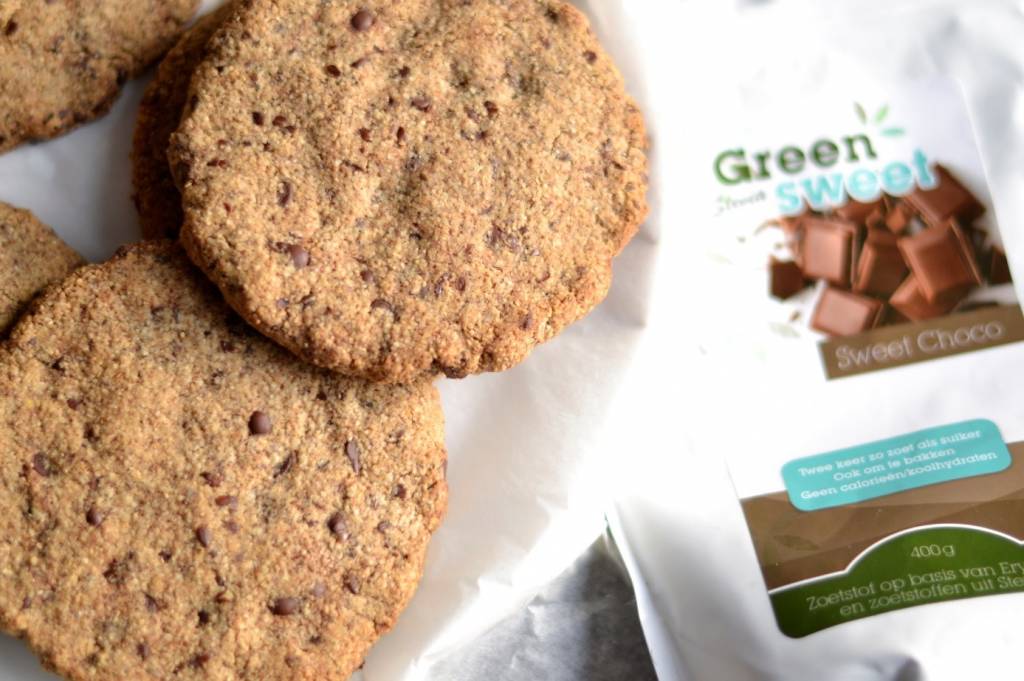 6 big cookies or 12 small cookies
What do you need:
200 grams of almond flour,
½ teaspoon of tartar baking powder,
80 grams of coconut oil (melted and cooled),
50 grams of cocoa nibs,
40 grams of Greensweet Sweet chocolate,
a few drops of Greensweet liquid stevia vanilla ,
3 tbsp broken linseed + 9 tbsp water
a pinch of Himalayan salt
This is how you make them:
Step 1
Preheat the oven to 175 degrees and cover a baking sheet with baking paper.
Step 2
Put the broken linseed together with the 9 tbsp of water in a small bowl and mix it together. Set it aside.
Step 3
All dry ingredients are placed in a large bowl and stir well.
Step 4
Add the wet ingredients to the flour and knead into a dough ball with the hands. Wrap the ball in some household foil and then put it in the fridge for about 20 minutes.
Step 5
Take the dough ball from the refrigerator and divide the dough into 6 pieces. Make 6 balls of this and press it into flat cakes.
Step 6
Place the cookies on the lined baking sheet and slide them into the oven for 12-15 minutes.
Step 7
When the cakes are ready, let them cool well. When they are cold, they are hard / brittle.
Source / photo: Manon from Vegan Flavors