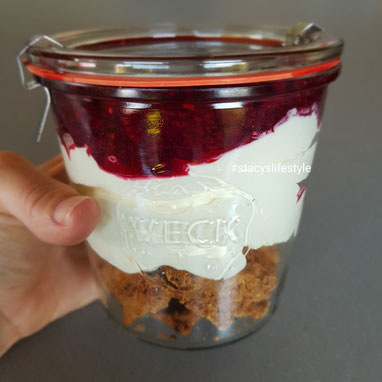 What do you need:
Bottom:
25 gr. butter
100 gr. Almond flour
1 protein
1 tbsp biscuits
Filling:
150 gr cream cheese light (Philadelphia)
200 ml whipped cream
6 drops of Greensweet liquid Vanilla
Jelly:
200 gr. red fruit (frozen)
20 gr. Greensweet Jelly Crystal
This is how you make it:
* preheat the oven to 180C °
Bottom:
1. Melt the butter and mix together with the ingredients for the bottom into a firm mixture.
2. Put parchment paper on the oven plate and spread the mixture over the plate and press well. Bake the bottom for 15 min in the oven and then allow to cool
Filling:
1. Beat the whipped cream together with the Greensweet Sweet Intens.
2. Add the rest of the ingredients from the filling and mix to a smooth mixture.
Jelly:
1. Puree the fruit and heat in a pan with the Greensweet Jam Jelly Crystal.
Structure:
1. Crumble the cooled soil and place this in the bottom of the container.
2. Then do the filling on top of it.
3. Finally the Jelly of red fruit.
Leave the jar in the fridge for at least 1 hour (better a few hours)
* Tip: You can also create several layers instead of one layer each.
Source / photo: Sweet Benefits(Stacy van den Abeele)