Almond coconut strips with dark chocolate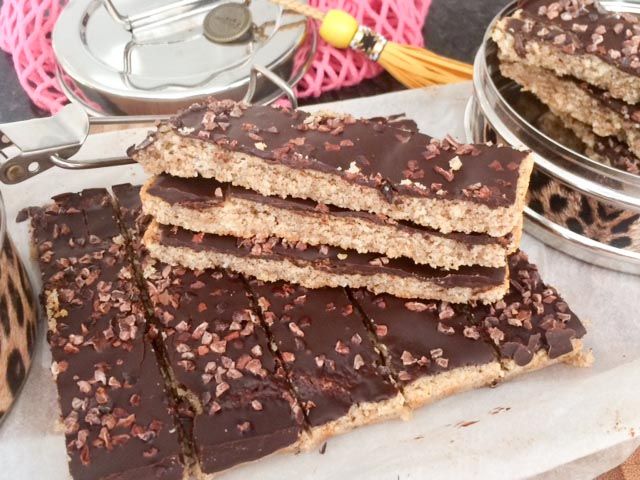 What do you need:
200 grams of almond flour,
50 grams of coconut flour,
1 el pumpkin spice (or gingerbread biscuits or cinnamon too),
130 ml of coconut oil (melted),
4-6 drops of Greensweet liquid stevia vanilla ,
30-60 ml of water,
sniff Himalayan salt,
100 grams of pure chocolate from Greensweet-stevia
and some cocoa nibs.
Step 1
Preheat the oven to 180 degrees. Line your cake mold with baking paper.
Step 2
Put the almond flour, coconut flour, Himalayan salt, spices in a large bowl and mix thoroughly.
Step 3
Add the Greensweet Syrup Gold, greensweet liquid stevia vanilla drops and the melted coconut oil to the flour. Stir well. Carefully add the water. Not everything at the same time. It should not be too dry, but not too wet.
Step 4
Transfer the dough into your pie shape and press well. Prick some holes in the soil and put in the oven for 15 minutes.
Step 5
Allow the soil to cool properly. In the meantime you can melt the chocolate. Pour it onto the cooled cake base. Grease well and sprinkle some cocoa nibs over it. Put in the refrigerator to let it solidify.
Step 8
Cut out 12 bars. Keep them in the refrigerator or freeze the bars.