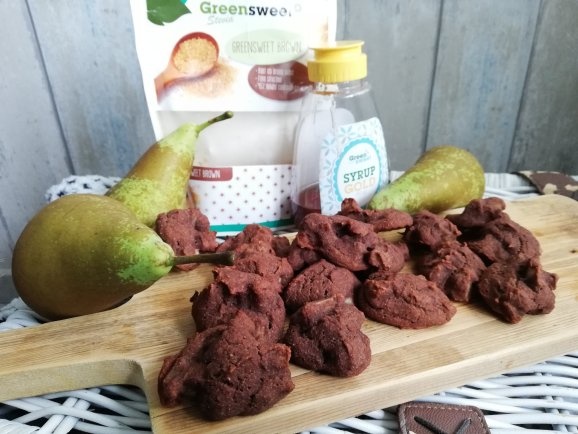 What do you need:
100 grams of cannellini beans (rinsed and drained)
1 protein
10 grams of coconut flour
10 grams of buckwheat flour (wheat flour, oatmeal, spelled flour is also possible)
5 grams of cocoa (unsweetened)
A dash of milk
100 grams of pear
Pinch of salt
This is how you make these delicious cookies for coffee:
Preheat the oven to 180 degrees and line a baking sheet with baking paper. Grind the cannellini beans in a food processor. Add the egg whites and a dash of milk and mix into a smooth batter. Then add the rest of the ingredients, except the pear. Make this a nice and even batter. Then fold in the pear pieces.
Make heaps of the batter on the baking paper and place the cookies in the preheated oven for about 30-35 minutes. Let the cookies cool and your delicious chocolate pear cookies are ready.