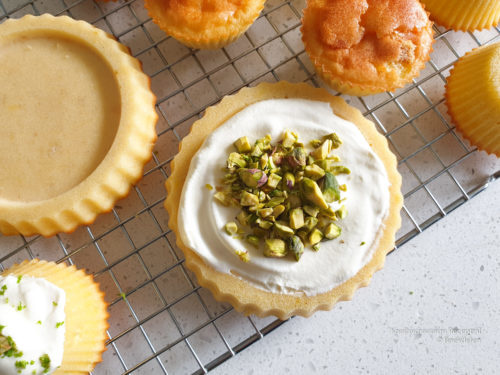 What do you need for 12 cups:
5

eggs

120

g

cream cheese

120

g

butter (grass)

-

soft

1

lemon

-

organic, juice and grater

200

g

almond flour

1

tbsp

baking powder

-

tartar

pinch

(ground sea) salt
How to make them:
Mix the eggs on low for 2 minutes, until frothy.

Melt butter slightly over low heat to soften. Mix this with the cream cheese, the juice and the zest of 1 lemon. Mix with the foamy eggs to a fluffy batter.

First mix the almond flour with the baking powder, the Greensweet Icing and the salt. Then mix it into the batter. Taste and make the batter as sweet as you want. Let the batter stand for 10 minutes.

Preheat the convection oven to 165 ° C and grease a muffin tin (12 cavities) or cake tin. We use silicone inserts, which sticks a lot less and the cake dissolves easily.

Pour the batter into the mold and smooth the top. Bake the cupcakes for 20 - 25 minutes. A large cake takes 35 - 45 minutes. Always do the skewer test to make sure the cake is cooked. In any case, never bake almond flour for too long, it will quickly become too dry.
Topping
You can already make the topping. Make a smooth whole of dairy of your choice. We used 80 grams of cream cheese and 200 ml of whipped cream, sweetened with a few drops of greensweet liquid stevia natural. A spoonful of chopped pistachio nuts and some lime zest.

Make a mixture of mascarpone, coconut cream, vegetable yogurt or a delicious buttercream or something!

Let the cakes rest for 5 minutes before gently loosening them (taking them out of the tin). Allow to cool completely and decorate with a topping at your discretion. Enjoy it.