Low-carbohydrate Christmas cookies from Gingerbread a la Barbara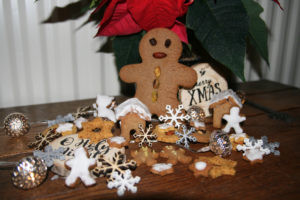 What do you need:
200 grams of almond flour
60 grams of butter at room temperature
1.5 tablespoon of cinnamon
2 teaspoons of ground ginger
0.5 tsp ground cloves
0.5 teaspoon nutmeg
0.5 teaspoon baking powder
1 tablespoon of Greensweet Extra Sweet
1 egg
1 teaspoon vanilla extract
This is how you make it:
The dough should be left in the refrigerator for half an hour.
10-15 minutes in a preheated oven at 175 degrees.
Finally, the glaze:
Greensweet Icing
lemon juice to taste
Enjoy!