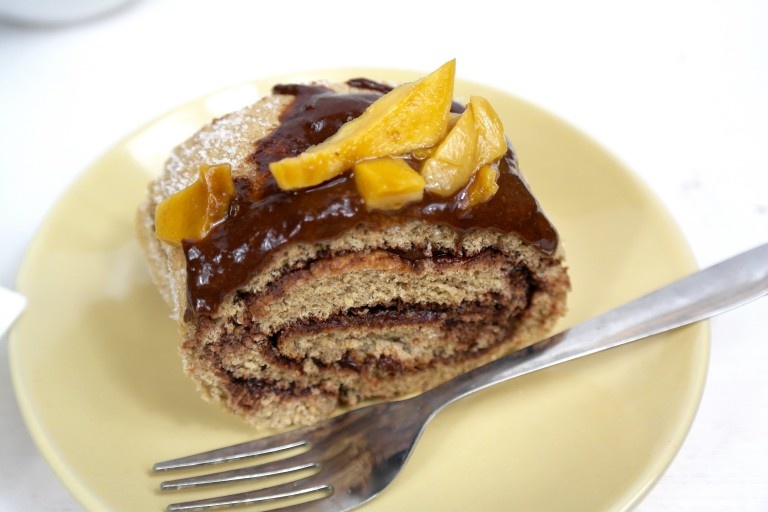 What do you need:
For the cake:
70 grams of brown teff flour (almond flour is also possible)
5 grams (tartar) baking powder
one and a half tablespoons of organic cornflour or arrowroot
4 fresh eggs
10 ml (= approximately one tablespoon) of water
2 large tablespoons of Greensweet Extra Sweet + 2 large tablespoons of greensweet-stevia Icing powdered sugar
For the filling / topping:
2 bananas
3 large tablespoons of organic low-fat cocoa powder
about 2 slices of dried mango, cut into pieces
This is how you make it:
Preheat the oven to 180 degrees. Cover a baking sheet with baking paper. Lightly moisten a clean tea towel and lay it out on the counter. Sprinkle the tea towel with a little erythritol sugar. Soak the pieces of mango in water and drain well. Puree the bananas with the cocoa to a creamy mass.
Split the eggs. Beat the egg whites together with the sugar in a fat-free bowl until a stiff mass, the bowl must be reversible. Stir the rest of the ingredients for the cake together in a bowl and add the egg whites, then fold with a light hand. Pour the mass on the baking sheet and spread into a nice square slice. Bake the slice in the middle of the oven for approximately 12-15 minutes, and keep checking. Place the slice directly from the oven with the baking paper on top of the soaked tea towel, and gently pull the baking paper off.
Spread the slice generously with the banana puree. Now roll the cake carefully through the tea towel. Press the roll in between a little. Cut off the ends. Carefully place the cake roll on the plate. Spread with the rest of the banana puree and garnish with the pieces of mango.