Pink Zebra cake from Vegan Flavors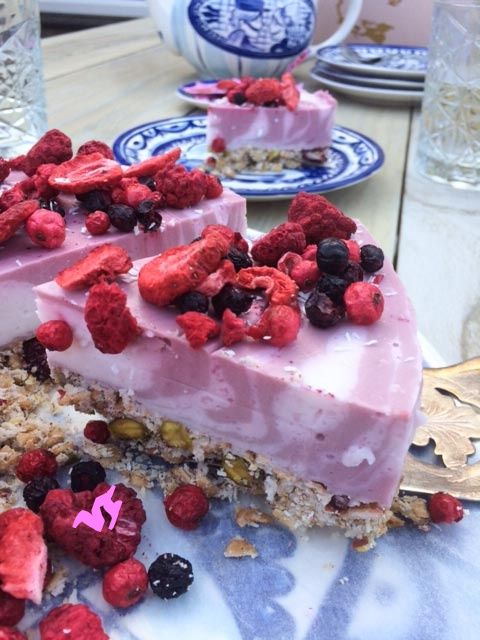 What do you need: for 6-8 pieces of cake
Bottom:
40 grams of coconut flour,
2 tbsp grated coconut,
75 grams of spelled flakes,
75 ml coconut milk (light, canned),
2 tbsp agave syrup,
35 grams of pistachio nuts (chopped),
25 grams of dried cranberries,
1 teaspoon of vanilla,
juice of a ½ lemon,
zest of ½ lemon and a pinch of salt.
Filling:
1 cup of coconut yogurt (400 ml),
1 cup of coconut yogurt / raspberries (400 ml),
2x 3 grams of agar agar and 2x 100 ml of water.
Possibly 4 sachets of beating fix (Bio Vegan, Ekoplaza) to make an airy filling.
This is how you make it:
Step 1
Preheat the oven to 170 degrees and line a cake pan (18 cm) with baking paper and grease the edges with some coconut oil.
Step 2
Put all the ingredients for the bottom in a bowl and mix well.
Step 3
Spoon the mixture onto the pie crust and press well. Put the bottom in the oven for 10-12 minutes.
Step 4
Take two saucepans. You put 3 grams of agar with 100 ml of water in each pan. Bring to a boil while whisking well. Let the agar agar cook for 2 minutes.
Step 5
In one saucepan, add the coconut yogurt + 1 teaspoon of Greensweet extra sweet. Bring it to a boil again while stirring. In the other saucepan you put the coconut-raspberry yogurt. Stir well too.
Step 6
Do you want an airy filling? Then pour the yogurt mixture into a mixing bowl and add two bags of beating fix. Beat for about 5 minutes until fluffy batter. So you do this twice.
Step 7
Now you are going to pour the filling on the bottom. Do this alternately. First 3 tablespoons white, then 3 tablespoons pink. You repeat this until everything is finished.
Step 8
Now put the cake in the fridge for at least 2-3 hours.
Step 9
Finish the cake with dried forest fruits and cut the cake into 6 or 8 pieces.
Source / photo: Vegan Flavor