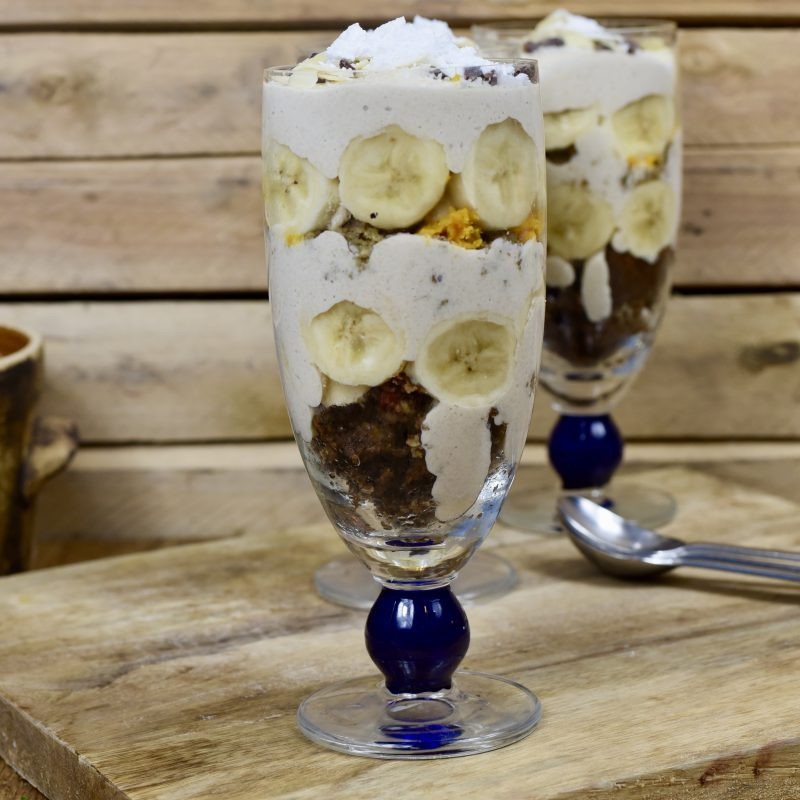 What do you need: (for approximately four / five large glasses)
The cake:
The chocolate cake:
The coconut cream:
The finish:
This is how you make this triffle:
We are going to make the cakes first. Preheat the oven to 180 • C. Cover two baking trays with baking paper. Stir all ingredients (in separate bowls) well, while adding warm water. If the mass is nicely smooth, pour the batter onto the baking plates and spread it out. Bake the cake slices in the middle of the oven for about 40-50 minutes, keep checking in the meantime. Let cool.
We will make the coconut cream while the cakes bake in the oven. Throw all ingredients into the blender jar and grind at high speed until a creamy mass.
Break the cake slices into small pieces. Prepare four or five glasses. Crumble a layer of the chocolate cake in each glass. Place against the edge on the layer of cake around a row of the banana slices. Pour some with coconut cream. Crumble a layer of the natural cake on this coconut cream. Divide the orange grater over the glasses. Place a row of banana slices against the edge again and pour full of the coconut cream. Garnish with some coconut grater, cocoa nibs, almond shavings and greensweet icing.
Of course you can add anything extra yourself on or between the layers. Consider, for example, Ceylon cinnamon powder, vanilla bourbon, finely chopped nuts, seeds, seeds and fresh soft fruit.
Source / photo: Monique van der Vloed