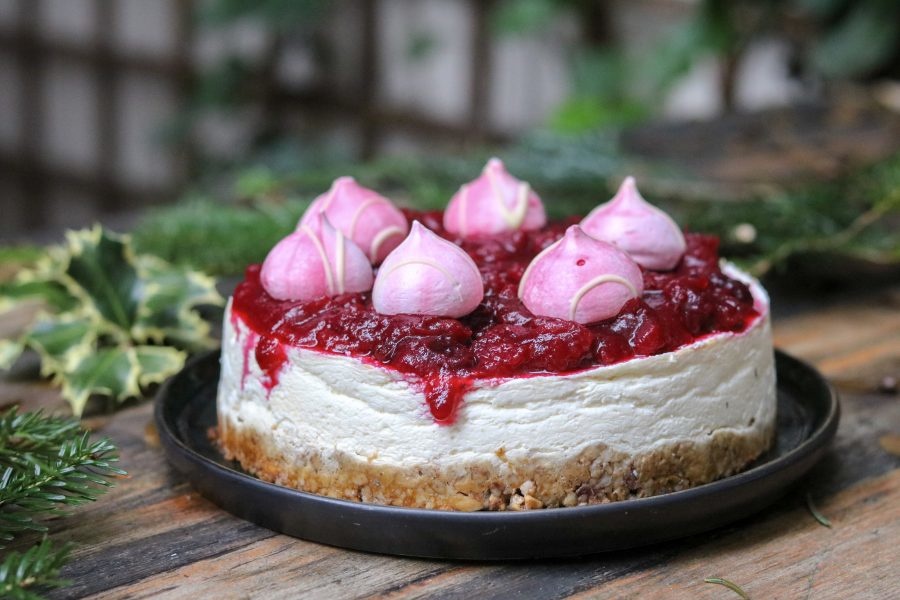 What do you need:
For one cake for 8 people
For the cranberry coulis:
1 orange
250 g of fresh cranberries
150 ml of water
100 g of Green Sweet Erythritol
1 cinnamon stick
For the bottom:
75 g almond flour
75 g roasted cashew nuts
1 egg
A touch of Ceylon cinnamon
Pinch of sea salt
For the cheese cake layer:
800 g coconut yogurt **
40 g arrowroot or tapioca flour
This is how you make this delicious cheesecake:
Cranberry coulis:
Grate the zest of the orange and squeeze the juice.
Put the cranberries together with the orange zest, orange juice, water, sweetener and cinnamon stick in a pan.
Put the pan on the heat and let the cranberries simmer. In the meantime, stir regularly.
The longer the cranberries cook, the more water will evaporate. As soon as all cranberries are weak, the sauce is ready.
Taste for a moment if your coulis is flavored and let it cool down and in the meantime get started with the cheesecake.
For the cheese cake:
Cover the baking pan with baking paper and grease the edges with coconut oil. Preheat the oven to 160 degrees.
Finish the ingredients for the soil with a food processor until a firm dough ball is formed.
Squeeze the dough ball onto the bottom of the spring form, possibly using the convex side of a cold spoon.
Mix the ingredients for the cheese cake filling well so that no lumps can be seen anymore.
Taste if your batter is tasty, if not add any extra sweetener.
Pour the batter into the spring form and slide it into the oven for about 60 minutes. Don't forget to put a (oven) dish on the bottom of the oven with a layer of water. This ensures that the cheese cake will not eventually crack.
After 60 minutes, turn off the oven and let the cheesecake cool with the door of the oven ajar for about 60 minutes.
Slide the cheesecake into the fridge for about two hours so that the filling can properly set. I often leave the cheesecake in the fridge overnight.
Spread the coulis over the cheesecake as soon as the coulis has cooled and the cheesecake is stiff enough

.