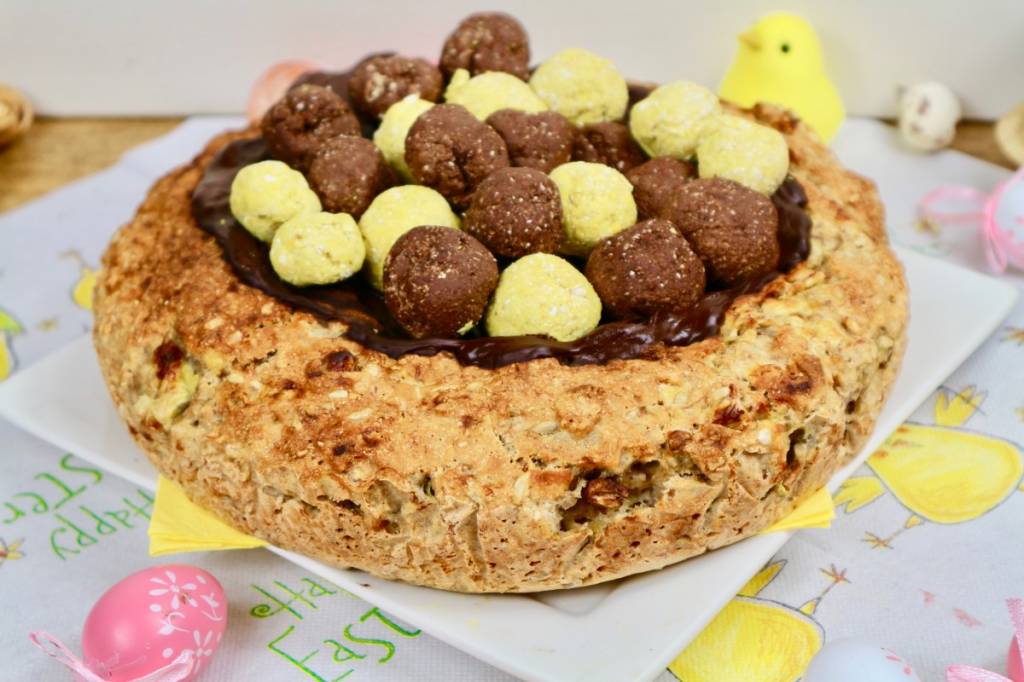 You need this:
For the "nest":
375 grams oat flour (ground oats in the blender into flour)
10 grams (tartar) baking powder
1 banana, mashed
150 grams of sunflower seeds
1 tablespoon anise powder
ceylon cinnamon powder for sprinkling
hot water
For the topping:
4 tablespoons organic low-fat cocoa powder
water
For the eggs:
2 x 200 grams oatmeal flour
3 tablespoons organic low-fat cocoa powder
2 tablespoons egg substitute

(click here for recipe)

water
This is how you make it:
By making a ball of a sheet of baking paper and unfolding it again, you get the funny exterior of the nest. Line a round shape (20 cm) with the crumpled baking paper.
Preheat the oven to 180 degrees.
Mix all ingredients, except the cinnamon, for the nest in a bowl. Add little warm water to this at a time until the mass has become nice and smooth.
Pour into the mold and make a large well in the center. Sprinkle the well with the cinnamon. Bake the nest in the middle of the oven for about 30-35 minutes, keep checking in between. Let cool.
While the nest is baking in the oven, we will start preparing the eggs.
Stir 200 grams of flour with a tablespoon of extra sweet and the cocoa powder in a bowl, add small amounts of water, knead everything well into a dough.
Roll out balls (eggs) here. Put the egg substitute in a bowl, and add a tablespoon of water. Stir. Then add the 200 grams of flour and extra sweet and add small bits of water until everything becomes a dough. Turn out "eggs" here too.
Put all the ingredients for the topping in a bowl and make a nice firm glaze with little water. Cover the pit in the nest with the glaze and divide the eggs over it.
Source/photos: Monique van der Vloed