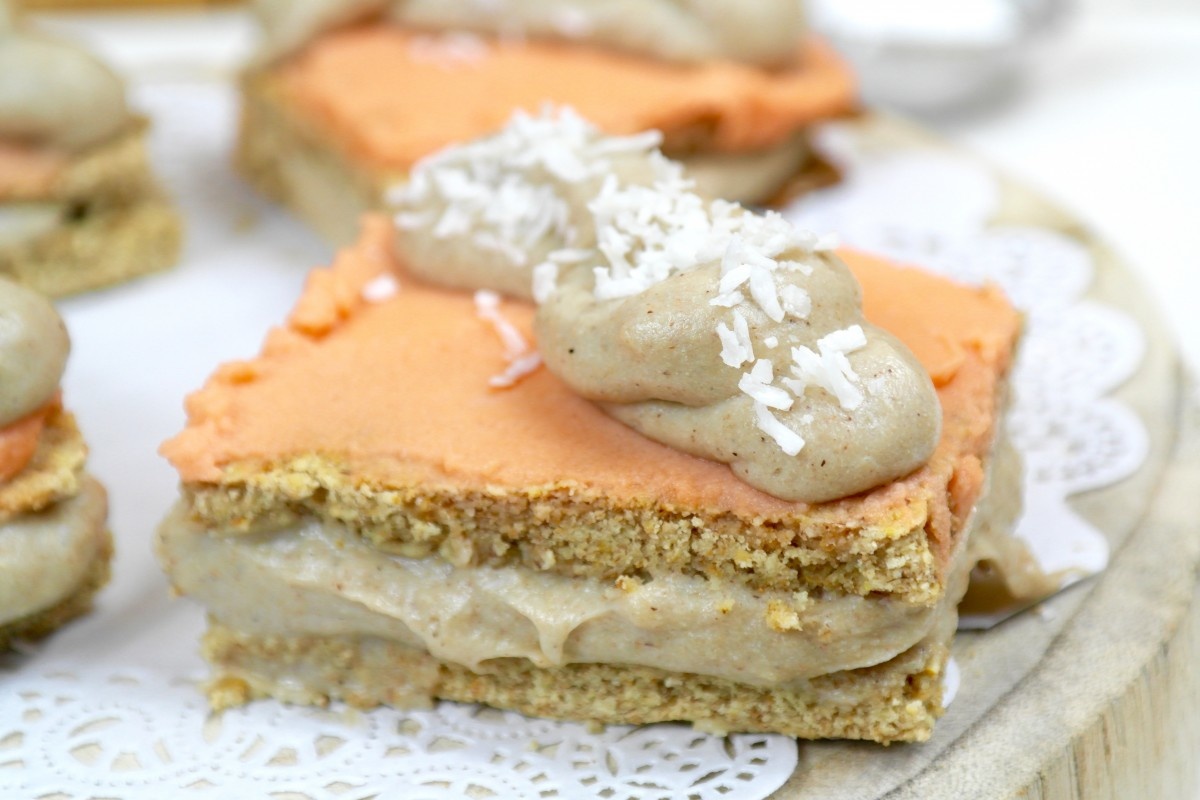 What do you need:
( for the crust )
150 grams chufa flour or other flour (see explanation above)
2 heaping tablespoons of

Green Sweet Extra Sweet

a pinch of vanilla bourbon (optional)
2 heaping tablespoons of pure coconut oil, melted
2 to 3 tablespoons of warm water
a fresh egg
For the banquet cream:
2 heaping tablespoons of

Green Sweet Extra Sweet

180 grams of whole grain buckwheat flour or other gluten-free flour
half a teaspoon of vanilla bourbon
400 ml oat milk or other milk substitute
3 egg yolks
For the topping:
4 or 5 heaping tablespoons of

Green Sweet Icing

pureed carrot or carrot juice
grated coconut
This is how you make them:
Preheat the oven to 180 degrees. Line a baking tray with baking paper. Mix all the ingredients for the crust together in a bowl. Place the dough ball on the plate and roll out as thin as possible with a rolling pin. The thinner, the crispier! Bake the slice in the middle of the oven for about 20-25 minutes, keep checking in between.
Put half of the milk in a saucepan. Mix the rest of the cream ingredients well with a whisk. Put the milk on the stove and bring to a boil. As soon as the milk starts to boil, stir it into the paste. Pour everything back into the pan and return to the heat, stirring continuously with the whisk. Once the cream has thickened to your desired consistency, remove the pan from the heat and continue to stir vigorously for about a minute. Cover the pan with a piece of plastic wrap and let it cool.
Cut square equal pieces from the slab. Fill a piping bag with cream, and pipe a piece full at a time, and carefully press another piece on it. Make a firm glaze by adding little bits of carrot puree or juice to the icing sugar at a time. Glaze the tomcats with the glaze. Pipe a line across with the cream, and garnish with grated coconut.
Source/photo: Monique van der Vloed