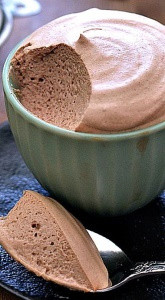 What do you need:
5 eggs (5 egg whites, 4 egg yolks)
200 grams of Greensweet-stevia chocolate
7 grams of stevia Greensweet Extra Sweet
6 drops of Greensweet liquid stevia Caramel
Teaspoon of butter
This is how you make it:
Separate the eggs (yolk in 1 dish (4x), protein in another dish (5x))
Add the stevia (powder and liquid) to the egg yolks and beat until it
egg yolk which looks whiter. Then beat the egg white stiffly.
Melt the chocolate au bain-marie
When the chocolate is almost completely melted, add a teaspoon of butter
Add the chocolate to the egg yolk and mix.
Then spat the protein under the mixture.
Put the mousse in nice bowls, cover them and let them stiffen in the refrigerator for a few more hours.