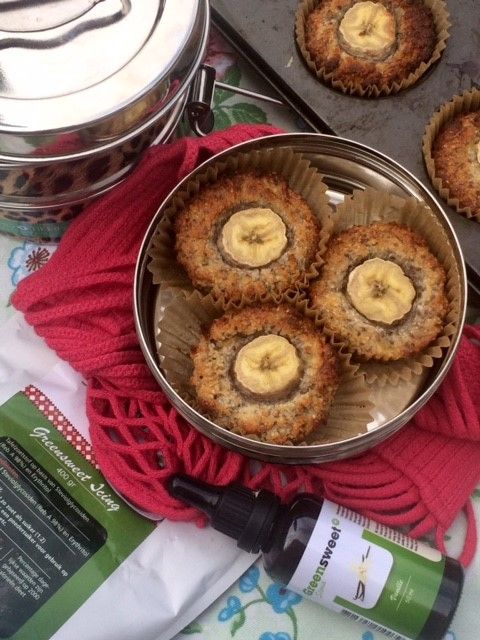 What do you need: (for 12 cupcakes)
200 grams of coconut flour,
50 ml coconut cream (canned, scoop out a thick layer),
400 grams of bananas (bananas with brown speckles),
4 teaspoon vine brick powder,
pinch of salt,
1 loose banana
3 tbsp chia seed.
This is how you make it:
Step 1
Preheat the oven to 180 degrees and prepare the cupcake holders.
Step 2
Put the dry ingredients in a bowl and mix.
Step 3
In another bowl you finely chop the bananas. Then add the coconut cream and Green Sweet liquid vanilla drops. Stir well.
Step 4
Add the banana mixture to the flour and stir well.
Step 5
Now divide the banana mixture between the 12 cupcake holders. Take the loose banana. Remove the peel, cut the banana into 12 slices and press it into the batter.
Step 6
Slide the baking tin into the oven and after about 18-20 minutes your coconut-banana cupcakes will be ready.
Step 7
Remove your coconut banana cupcakes from the oven and let cool for 10 minutes. Then continue to cool.
Source / photo: Manon de Wit (Vegan Flavors)