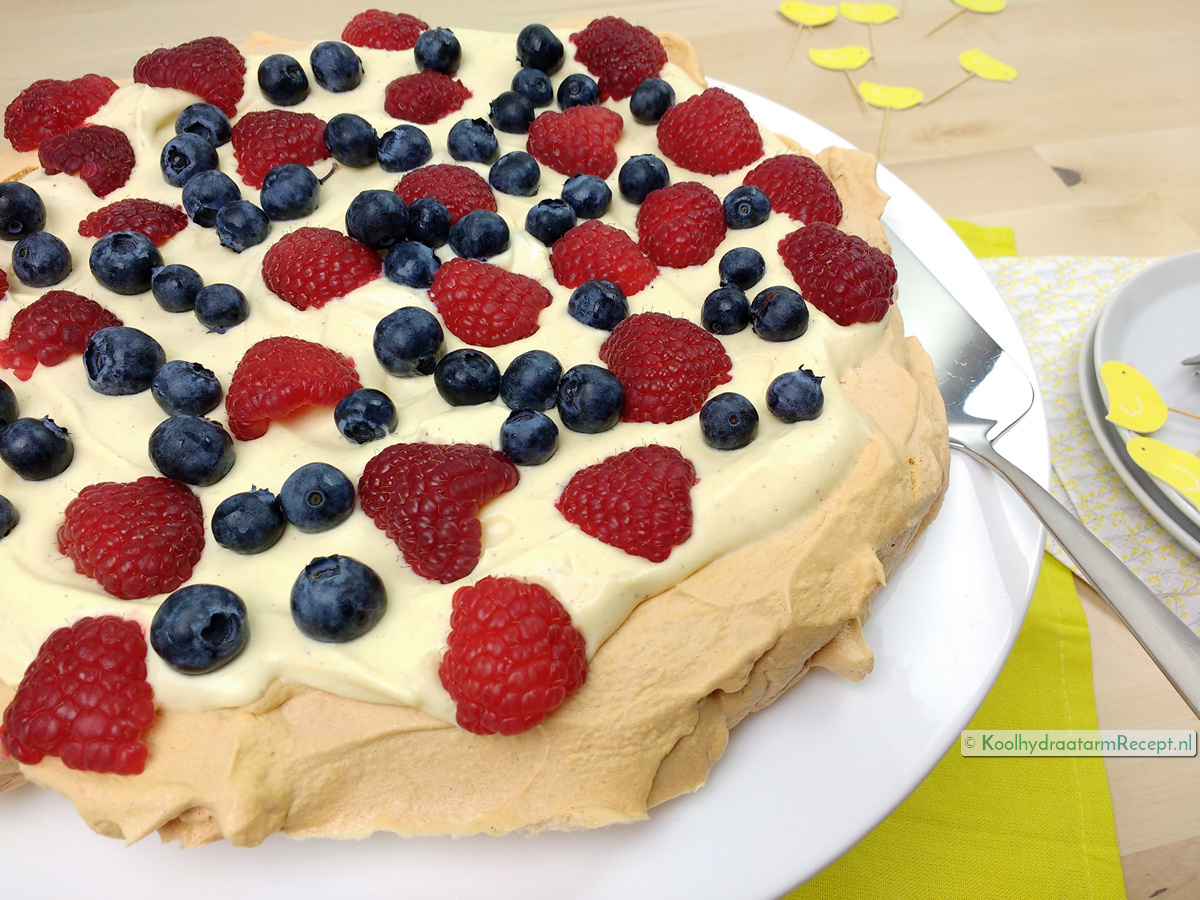 What do you need:
Bottom:
4 (room temperature)

protein (s)

 

2 tsp

lemon juice

1 tsp (fresh from a pod)

vanilla

 
Filling:
4

egg yolks

 

½ tsp

arrowroot

(binding agent)

200 ml

whipped cream

½ tsp (from a pod)

vanilla

 

pinch of

salt

 

100 gr

cream cheese

150 gr

mixed red fruit
This is how you make the pavlova:
Work very clean and preferably use a metal bowl. Clean your whisks, bowl and hands with some lemon juice and dry with kitchen paper.
Preheat the oven to 180 degrees and line the baking tray with parchment paper.
Beat the egg whites, lemon juice and vanilla in about 5 minutes until soft peaks with the (clean!) Mixer. Then add the Green Sweet icing while mixing spoon by spoon. Beat for about 1 minute, until you have nice stiff and long peaks.
Spread the beaten egg whites with a (clean!) Spatula on the baking pan to form a round slice or use a piping bag to form small containers.
Turn the oven back to 100 degrees and bake for 60-90 minutes (small or large). Then turn off the oven and let the pavlova cool in the oven with the door closed for at least 30 minutes.
In the meantime you make the vanilla cream:
Beat 4 egg yolks with arrowroot and Green Sweet icing until smooth.
Heat the whipped cream while stirring with a wooden spoon with vanilla and a pinch of salt. As soon as it threatens to boil: heat low. Add a few spoons of hot cream to the beaten egg yolks and stir well. This is called getting married. Then pour the married stuff into the pan with the hot cream and heat while stirring until it starts to bind into a custard. First aid for curling: turning off the fire and mixing with a mixer can sometimes help.
Immediately pour the custard into a cold bowl and place cling film on the surface to prevent skin formation. Let the custard cool completely.
Mix the cold custard with cream cheese into a nice vanilla cream.
The pavlova can be fragile, so remove the baking paper carefully. Spread the pavlova with the vanilla cream and decorate the cake with fruits. Serve immediately!