Low-carbohydrate granola sweetened with Greensweet Syrup Gold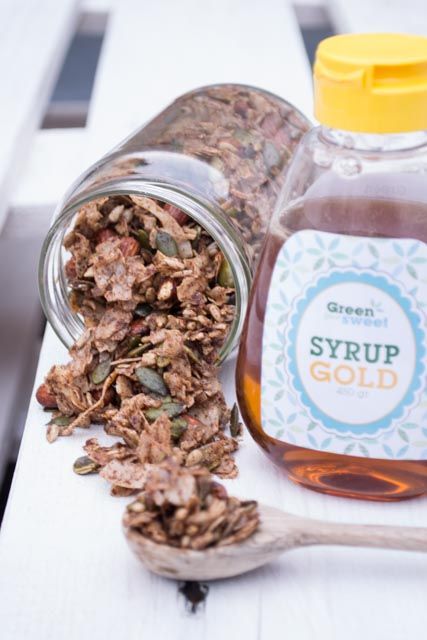 What do you need:
200 grams of nuts / seeds
(I used 100 grams of almonds,50 grams of sunflower seeds and50 grams of pumpkin seeds) ,
150 grams of coconut flakes,
2-3 el pumpkinspice,
sniff Himalayan salt,
2 tbsp extra virgin coconut oil (melted)
1-2 el Greensweet golden syrup
No pumpkin spice at home? Cinnamon, gingerbread or biscuit spices can also.
The almonds can also be replaced by other nuts or make your own mix of nuts and seeds.
This is how you make it:
Step 1
Line the baking sheet with parchment paper and preheat the oven to 150 degrees.
Step 2
Put all dry ingredients together in a large bowl and mix well.
Step 3
Pour the melted coconut oil through the nut seed mix and stir well. Add 1 el golden syrup. Taste even if it is so sweet enough, otherwise, add a 2nd scoop.
Step 4
Divide the mixture over the baking sheet and insert the oven. Your granola is ready after 10 minutes.
Step 5
Cool well and then put in a lockable pot. If you do not allow the granola to cool off properly, it does not get very tasty.
Step 6
Delicious as a snack, sprinkle a bit about your (vegetable) yoghurt, tasty with some fresh fruit or your pancakes.