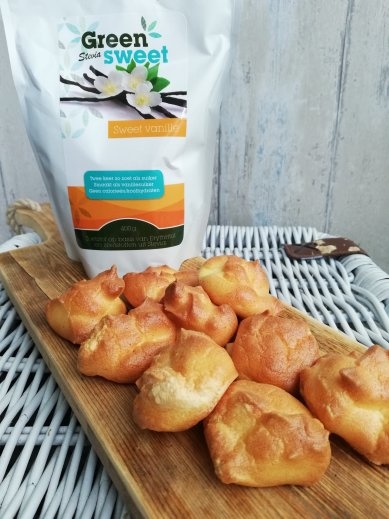 What do you need:
2 eggs
60 grams of cottage cheese or cream cheese
1/4 tsp baking powder
30 grams of Greensweet Sweet Vanilla (can be more, can be less, depends how much you like it sweet)
This is how you make these sandwiches;
Preheat the oven to 150 degrees.
Split the eggs. Make sure to put the egg whites in a fat-free bowl and the yolks in another bowl.
Mix the egg yolks with the quark and vanilla sugar. You can simply mix this with a whisk. Make sure it becomes an even mass, without lumps.
Mix the egg whites with the baking powder into a light and firm mass. You should be able to put the bowl upside down over your head;).
Then it is time to mix the egg white with the egg yolk mixture, but do this carefully!
First add a teaspoon of the beaten egg white to the egg yolk mixture and mix well. You call this 'making family'. This allows both substances to get used to each other's structure and there is already some lightness in the egg yolk mixture.
When you have done this, you can gently fold the egg yolk mixture into the beaten egg whites. Make sure you use as little spatula as possible, so that you lose as little fluffiness as possible.
Then make balls on a baking tray covered with baking paper. And then put the baking tray in the preheated oven for about 20 minutes.
Note: every oven is different! It may be that your cloud rolls need a little shorter or longer in the oven.
And your sweet cloud buns are ready!