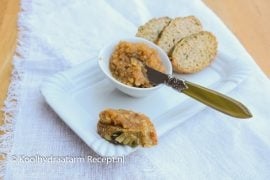 What do you need:
75 gr

walnuts

4.05 khd

1 tbsp

walnut oil

 

30 gr grated aged

cheese

 

1 pinch of

cayenne pepper

 

1 pinch of

salt

 

½ tsp

cumin

 

½ tsp

coriander powder

 

OPTIONAL

garlic

 
This is how you make this walnut pesto:
Roast the walnuts and chop them into pieces. Puree 50 grams of walnuts with walnut oil, cheese, spices, liquid stevia and salt into a pesto. Make it as coarse or fine as you want, you can use the hand blender or a mortar for this.
Mix the remaining pieces of walnut with the pesto. Taste and determine if you should add anything of one of the ingredients. You can also easily vary the thickness by using more or less oil.
This delicious pesto contains less than 5 grams of carbohydrates for the entire recipe, so almost negligible per spreads.