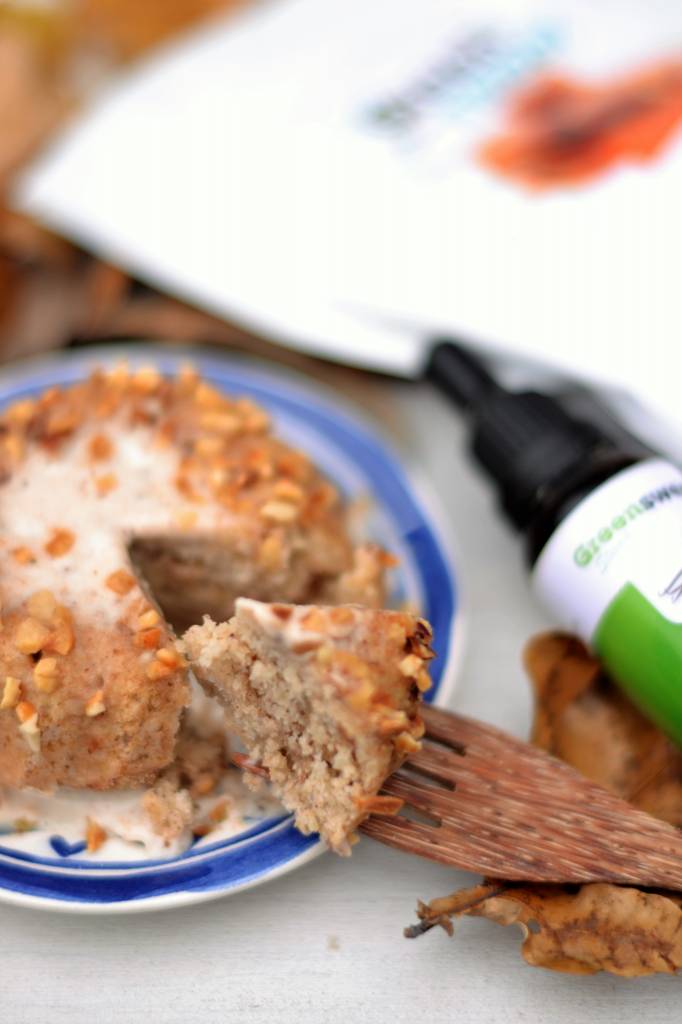 What do you need: (for 1 portion)
30 grams of almond flour,
10 grams of tapioca flour,
5 grams of spelled flour,
¼ teaspoon tartar baking powder,
pinch of Himalayan salt,
3 tbsp almond milk,
6-8 drops greensweet liquid stevia vanilla
1-2 teaspoon of almond paste.
Top:
1.5 t of coconut milk (from canned),
¼ el Greensweet Sweet Caramel,
1 teaspoon of almond paste,
1-2 drops greensweet liquid stevia vanilla
1 teaspoon arrowroot (if it turns out that it is too thin, or you add some almond paste).
This is how you make it:
Step 1
Preheat the oven to 180 degrees and grease the baking tin with some vegetable butter or oil and dust it with some flour.
Step 2
Put all dry ingredients in a bowl and mix well together.
Step 3
Stir in the wet ingredients with the flour and stir well together.
Step 4
When it's flavored, scoop the dough into your baking tin and put it in the oven for about 20 minutes.
Step 5
Let your cake cool down in the oven. The door can give you a crack.
Step 6
Mix all ingredients for the topping in a dish and pour over the cooled cake. Possibly finish with some hazelnutcrush.
This cake is also delicious as breakfast, lunch or as a snack. Do you use it for your breakfast or lunch? Then serve it with some fresh fruit.
Source / photo: Manon de Wit from Vegan Flavors ( @veganflavours via instagram)