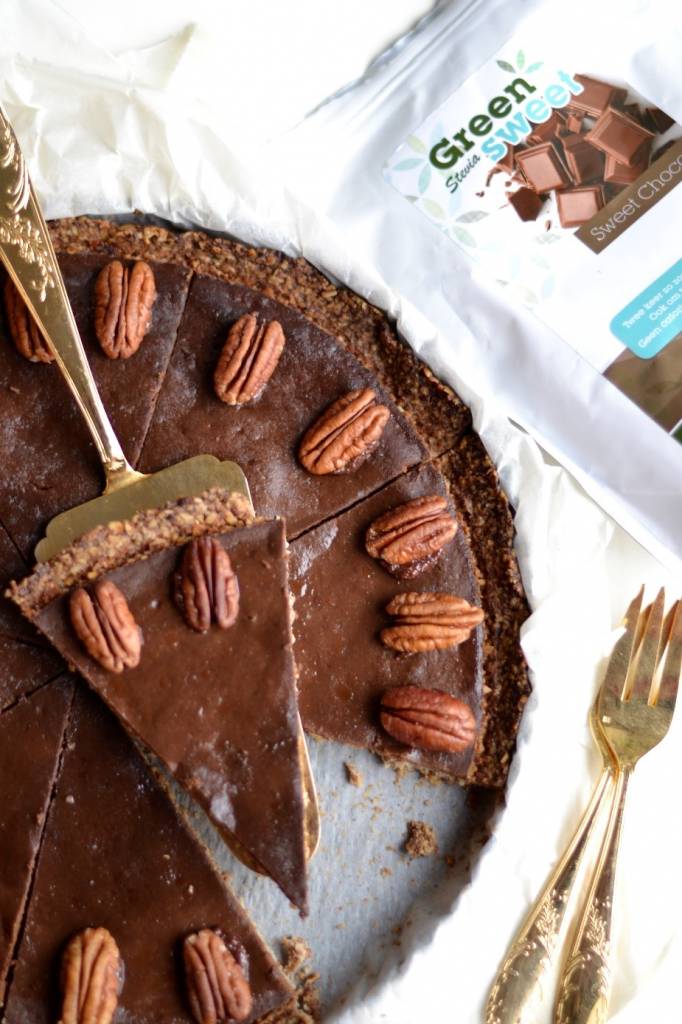 What do you need;
8 points (10, 12 or 16 is of course also possible)
Bottom:
150 grams (gluten-free) oatmeal,
50 grams of coconut oil,
pinch of Himalayan salt
100 grams of pecans.
Filling:
½ teaspoon of ginger,
2 teaspoon pumpkin spices,
1 teaspoon cinnamon,
100 grams (cooked) pumpkin puree,
400 grams of silken tofu,
100 grams of dark Chocolate (possibly from Green Sweet )
Top:
This is how you make it:
Preheat the oven to 180 degrees and cover a baking tray and cake pan (23 cm) with baking paper.   Place the oatmeal and pecans on the coated baking sheet and place them in the preheated oven for about 10 minutes.   Put the roasted oatmeal and pecans in the food processor together with the coconut oil, salt and Green Sweet Sweet Chocolate (start with half first). If you have a sticky mixture, you can taste it. Optionally add the other half of the Green Sweet Sweet Chocolate and further season with some Green Sweet liquid stevia vanilla and mix briefly.
Is your dough too dry? Then add some moisture. This is possible with water or a vegetable milk. Make it into a ball and wrap it in cling film and put in the fridge for 20 minutes.
Thoroughly clean the food processor. Add the pumpkin puree, silken tofu and spices and mix until smooth. Leave it for a while.
Melt the dark Chocolate au ban marie and when it is completely melted, add it to your pumpkin puree. Mix well together. Little by little you add the Green Sweet Sweet Chocolate . Keep tasting. I have added everything, but maybe you want it a little less sweet or sweeter, then you use more Green Sweet Sweet Chocolate .
Remove your dough ball from the refrigerator and press it onto the bottom of your cake base. Press well. Then place it in the preheated oven for about 15 minutes. Allow to cool afterwards, so that the soil can cure.
Pour your Chocolate mixture on the bottom of the cake and put in the oven for about 50-60 minutes.   Does your skewer come out dry? Then your cake is ready. Allow to cool gradually. I do this by leaving the cake in the oven with the door ajar.
When the cake has cooled well, you can do the garnish. I used some extra pecans, but fresh raspberries are also very tasty! You can stick the pecans like a circle at the end with some
homemade Chocolate
spread. There are many ways to finish the cake. Use your own creativity.
Keep the cake in the fridge. Do you have any documents left? You can also freeze a dot for a later moment.
Source / photo: Manon from Vegan Flavors