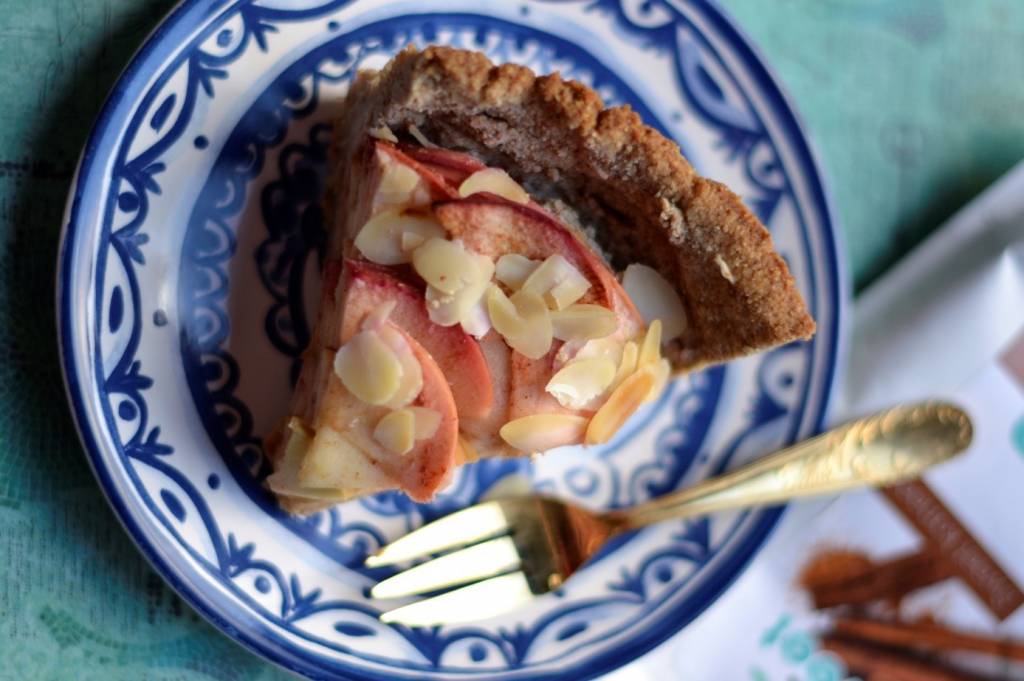 5 (breakfast) portions or 8 points.
What do you need:
Bottom:
125 grams of almond flour,
125 grams of tiger nut flour,
2 tbsp sweet cinnamon,
sniff Himalayan salt,
100 grams of coconut oil
and 120 ml of water.
Caramel layer:
6 dates,
100 ml of coconut milk,
sniff Himalayan salt,
Greensweet liquid stevia Caramel (to taste)
and juice of a ½ lemon.
Filling:
3 big apples,
1-2 el Greensweet Sweet Cinnamon,
juice of a ½ lemon
and 2 teaspoon of cinnamon.
Topping:
almond shavings
This is how you make it:
Step 1
Preheat the oven to 180 degrees and cover the bottom with parchment paper and grease the edges with vegetable butter or oil and sprinkle with some flour.
Step 2
When your dates are hard, soak them in a bowl of boiling water. If your dates are soft, then this is not necessary.
Step 3
Put all the ingredients (except the water) for the bottom in the food processor and switch on. Gradually add the water to the dough. You may not need all the water. The dough may be a solid dough ball. Not too wet and not too dry.
Step 4
Remove the dough from the food processor and wrap it briefly in cling film. Let rest in the refrigerator for about 20-30 minutes.
Step 5
Meanwhile, make the caramel sauce. Put everything in the food processor or blender and make sure you get an even sauce. Always taste if it is to taste. Put the dish with caramel sauce aside.
Step 6
Remove the dough from the refrigerator and cover the bottom and edges. Prick some holes in the bottom and pour the caramel sauce on the bottom. Distribute evenly.
Step 7
Wash the apples well. Choose whether you want to remove the peel. Cut the apples through 4 pieces and then cut thin slices or cut into cubes. Put the apple pieces in a large bowl and add the greensweet sweet cinnamon, lemon juice and cinnamon. Shake well and taste for a while whether it is so sweet enough.
Step 8
Place the apple slices or add the apple cubes to the bottom of your cake. Finish with some almond shavings and put in the oven for about 40-50 minutes.
Step 9
Remove the apple pie from the oven and let it cool down, then put it in the refrigerator. This makes the soil and the edges hard. Of course the apple pie can also serve you lukewarm. Then keep in mind that the dough is somewhat brittle.
Step 10
Cut the cake into the desired points and serve with a tasty dot of coconut cream. Also tasty with some coconut yoghurt and some homemade granola. Do you not eat the cake immediately? You can also freeze this cake!