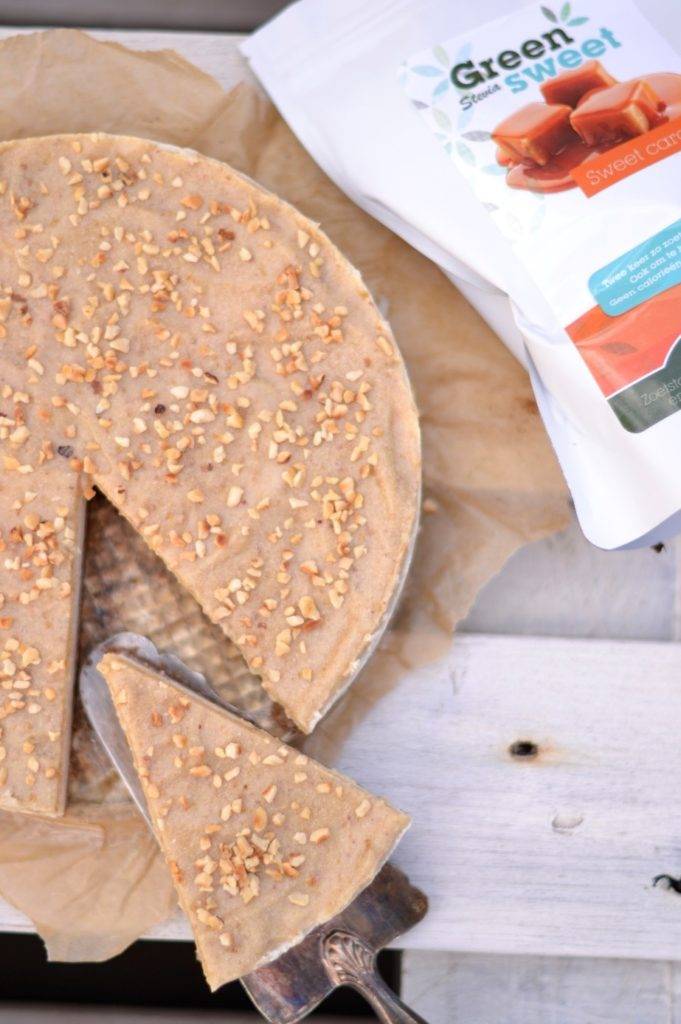 What do you need:
Bottom:
200 grams of almonds,
50 grams coconut almond butter (other vegetable butter is also possible),
pinch of salt.
Filling:
600 grams of coconut or soy yogurt,
juice of ½ lime,
4 grams of agar.
Top:
8 dates,
juice of ½ lime,
150 ml coconut milk (canned) and
possibly some nuts on the top.
* less is also possible, then it is less sweet. The sweet chewers among us (not vegan) raved about this cake. At first I wanted to make something different, that's why there is so much sugar in the bottom. It is in balance with the rest of the cake. Do you still want to use less sugar? Then use at least 50 grams.
This is how you make it:
Take a 23 cm cake pan and line the bottom with baking paper. Grease the edges.
Preheat the oven to 180 degrees and line the baking tray with parchment paper. Place the almonds on the baking tray and put in the oven for about 15 minutes.
Put the roasted nuts together with the greensweet sweet vanilla, salt and butter in the food processor. When you have a doughy substance take it out of the bowl. Cover the pie base with the dough and press well. Prick some holes with your fork and put in the oven for about 15 minutes (180 degrees).
Put the coconut or soy yogurt in a large bowl and add the greensweet sweet caramel and possibly the greensweet liquid caramel drops. Mix well. Always taste whether it is so flavored.
Grab a saucepan and add the lime juice and agar agar. Stir well and bring to a boil. Keep stirring well. When the agar becomes thick, spoon the yogurt into the pan. Keep stirring well. Bring to the boil again and let it simmer for another minute or 2.
Take the cake base and pour the yogurt on the cake base. Shake gently so that everything is even. Now put in the fridge and let it stiffen for at least 2-3 hours.
Meanwhile, make the top coat. Put the dates (without stone) in the food processor with the other ingredients. Turn on and clean the edges every now and then. When you have a nice pasta, it is ready.
Is your cake stiff? Spoon the caramel layer on top of the cake and spread out nicely. If necessary, finish with some nuts. Put the cake in the fridge or cut into at least 8 pieces.
The cake can be kept for at least 3 days, if you keep it in the fridge.
Source / photo: Manon de Wit (@veganflavours via instagram)