Gluten-free chocolate buns without flour and low in carbohydrates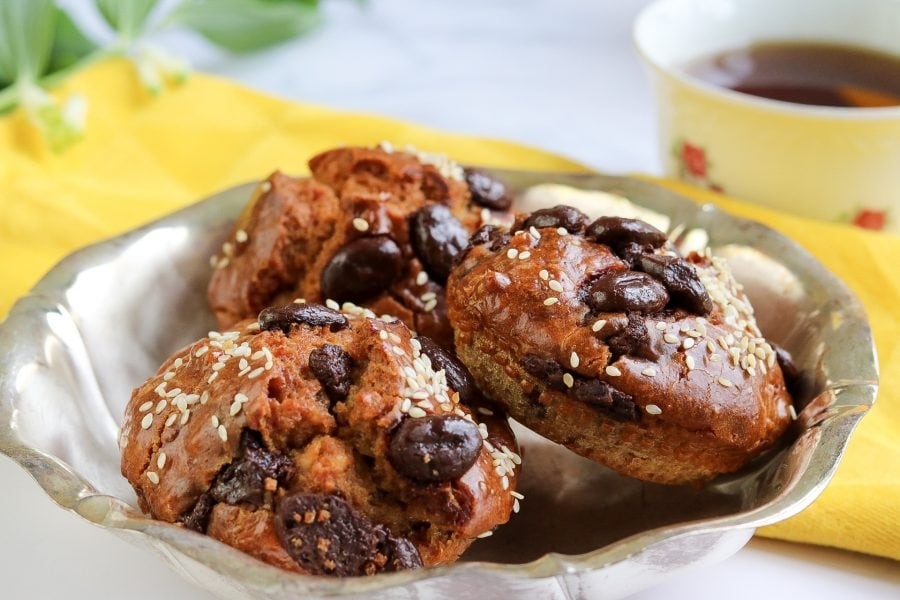 What do you need:
Mixing bowl
5 muffin cups OR round bread pan from Lékué
Spatula
For the batter of 6 rolls:
20 g coconut oil - melted
4 eggs
100 g lactose-free yogurt
300 g nut butter or peanut butter
10 g baking powder
Pinch of sea salt
40 g chocolate (as pure as possible, without refined sugars) or go for mocha beans
Optional: 1 tbsp sesame seeds
This is how you make these delicious sandwiches:
Preheat the oven to 170 degrees. Grease the bread tins or muffin tins with some coconut oil.
Place all ingredients, except the chocolate, in a mixing bowl and beat the ingredients with a mixer or with a spatula to a firm batter.
Have a taste of your batter. If necessary, add a dash of gingerbread spices or some extra sweetener.
Chop the chocolate coarsely or if you use mocha beans, add it to the batter.
Sprinkle some sesame seeds over the sandwiches for some extra spice!
Divide the batter over the molds and slide these rascals into the oven for about 25 minutes.
Let the chocolate buns cool down outside the oven and enjoy!