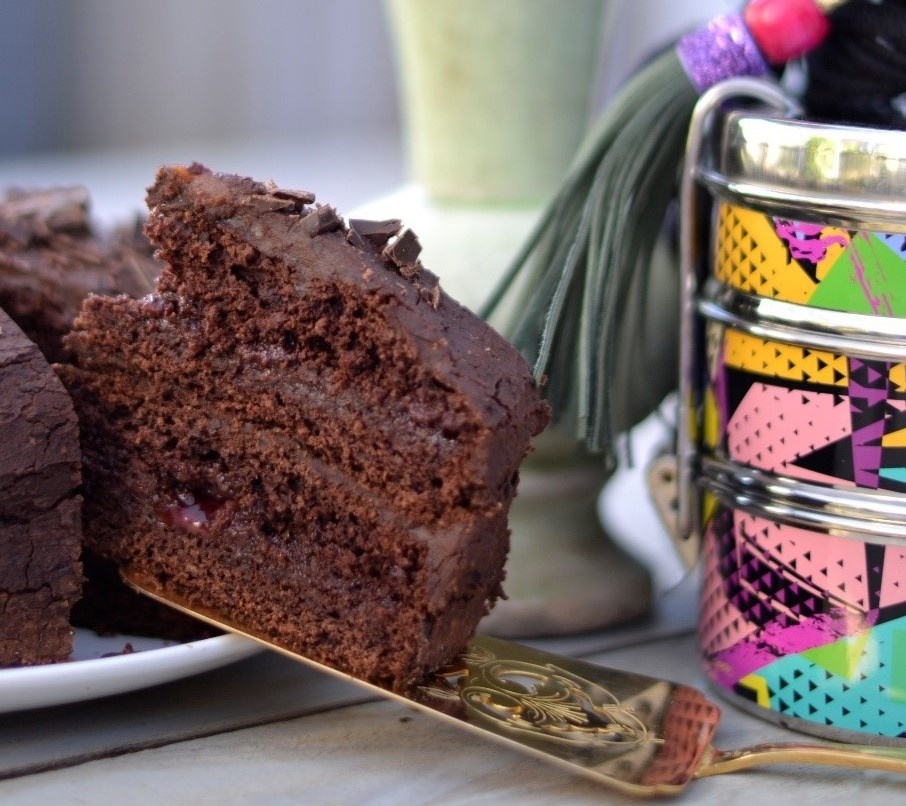 What do you need for 16 points:
Cake:
75 grams of spelled flour,
75 grams of oat flour,
50 grams of raw cocoa,
5 grams of tartar baking powder,
5 grams of backing soda,
350 grams of bananas.
(Make this cake twice, so you need double everything. I did make the batter separately each time).
Filling:
1 jar of organic cherry jam
Chocolate Filling:
1 can of black beans (245 grams),
100 grams of dates,
50 grams of raw cocoa,
50 ml of vegetable milk
Topping:
shaved dark chocolate (quantity as desired).
This is how you make this delicious cake:
Preheat the oven to 180 degrees and line a baking tin with parchment paper or grease the edges and sprinkle some flour in the baking tin. I used a 23 cm baking pan.
First, get started for cake 1: put all dry ingredients in a mixing bowl and mix together. Mash the bananas in a separate bowl. Add the mashed bananas to the flour and toss well. Put the batter in your baking pan and put it in the oven for about 50 minutes.
Repeat this for cake no. 2
Let the cake cool down.
Make your chocolate filling now.
Place the drained black beans in the food processor along with the dates, raw cocoa, almond syrup and vegetable milk. When you have a creamy whole, it is ready. If you want it sweeter, add some dates or date syrup.
Cut cake 1 and 2 in half horizontally. When you stack the cake again, you have 4 layers and 3 intermediate layers.
Take 1 base and spread a layer of cherry jam on it. Take the top of your cake (if it is too convex, cut something off), now spread a layer of chocolate cream on top. Place the second bottom on top of the chocolate layer. Top it off with another layer of cherry jam and seal the cake with the top. Now cover your cake with the remaining chocolate cream. Top it off with shaved dark chocolate.
Cut the cake into 16 pieces and enjoy!
Source / photo: Manon de Wit