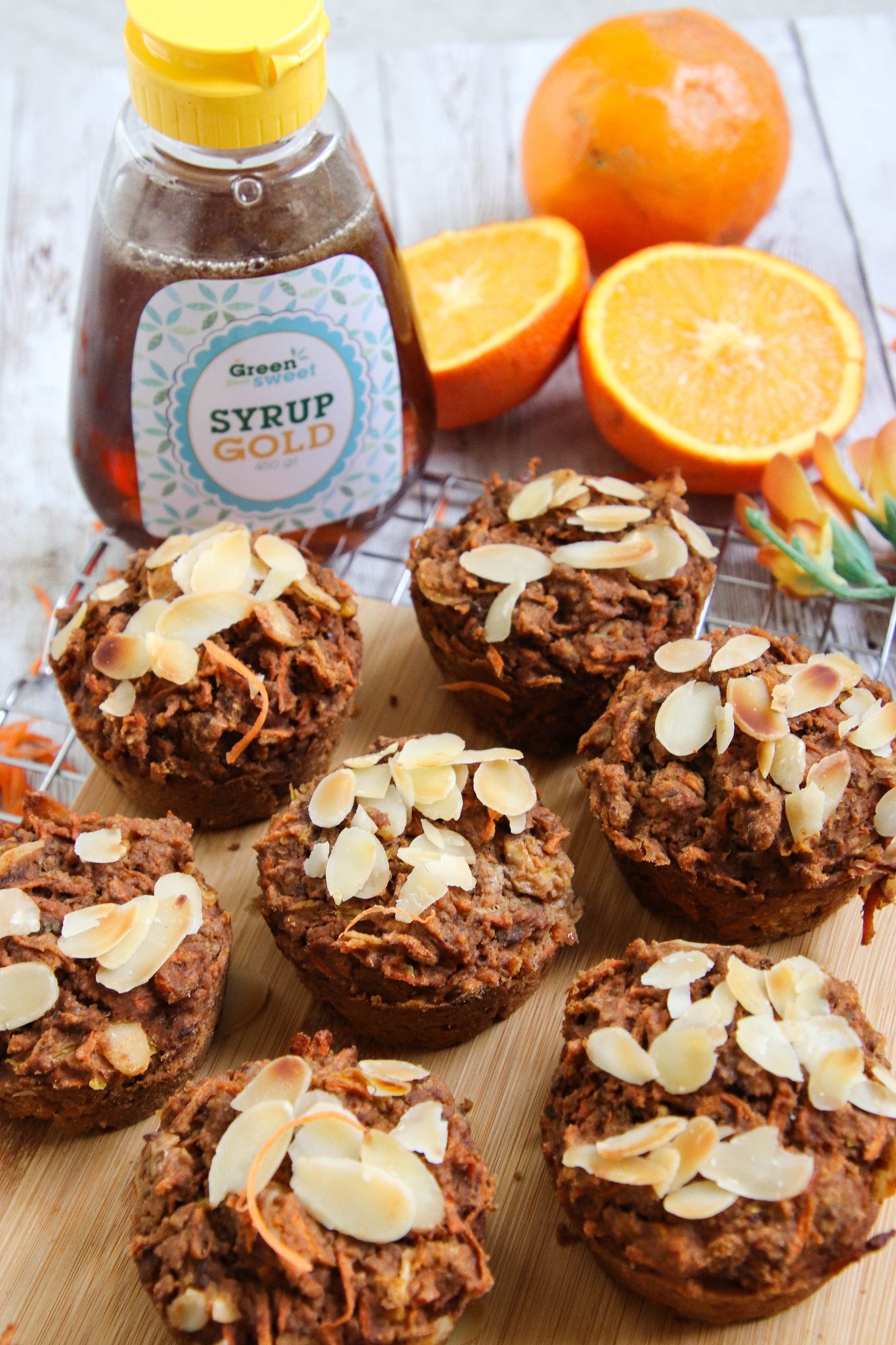 What do you need:
100 grams of brown rice flour
50 grams of oatmeal
50 grams of almond flour
250 grams of grated carrot
1 tablespoon of broken flax seeds + 3 tablespoons of water
Grater of 1 orange
Juice from 2 oranges
75 ml of vegetable milk
1 banana
1 tablespoon of cookie spices (or 1.5 if you like tasty spicy)
1 teaspoon of backing soda
1 tablespoon apple cider vinegar (or lemon juice)
Pinch of salt
10 grams of almond shavings + another hand for topping the muffins
This is how you make them:
Preheat the oven to 180 degrees and grease a muffin form (this is not necessary if you use a silicone muffin form).
Grate 250 grams of carrot and set it aside.
In a bowl, mix 1 tablespoon of broken flax seeds with 3 tablespoons of water and stir. Leave it for a while so that it becomes a paste.
Pack a larger bowl and add all the dry ingredients: rice flour, oatmeal, almond flour, salt, cookie spices, backing soda and the Green Sweet Sweet Vanilla.
Grate 1 orange over this bowl.
Squeeze 2 oranges and add the juice to the bowl with dry ingredients. Finely chop a banana and add it. Stir a tablespoon of apple cider vinegar or lemon juice, the linseed porridge and 3 tablespoons of Green Sweet Syrup Gold through the mixture. Add the grated carrot and 10 grams of almond shavings and mix well. You can also add some extra vegetable milk if you think the mixture will remain too dry
Spoon the batter into the muffin form and sprinkle some almond shavings over each muffin.
Now bake the muffins in the middle of the oven for 20-25 minutes.