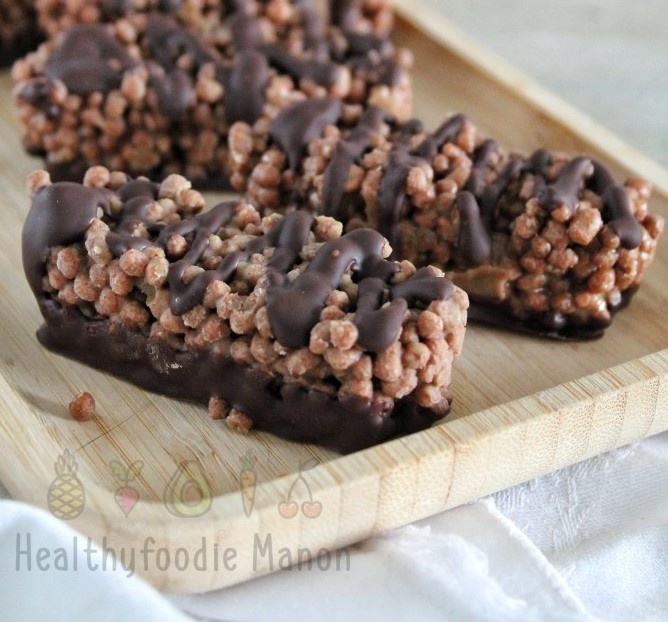 You need this for 9 strips:
50 grams of soya crispies cocoa from KoRo
3 tbsp pure peanut butter from 100% peanuts, I used the peanut butter from KoRo
2 tbsp coconut oil
2 tbsp Green Sweet Syrup Gold
Optional: 1 tsp Ceylon cinnamon
120 grams of dark chocolate (85%)
This is how you make the crispy chocolate bars:
Put the soy crispies in a bowl and melt the coconut oil with the peanut butter and Green Sweet Syrup Gold in a pan. Mix into an even mixture and add the cinnamon if necessary.
Pour this gently through the soy crispies and mix everything well together. Divide the mixture into a silicone (muffin) mold, fill the molds for three quarters and press well with a spoon. Place the mold in the refrigerator and let it set for at least 4 hours.
Melt the chocolate in a bain marie. Remove the strips from their shape and dip the bottom in the chocolate. Place them on a plate or cutting board with a piece of baking paper on it. Drizzle some chocolate over it and put it back in the fridge. Leave them in the fridge for at least 2 hours until the chocolate has hardened. Store the chocolate crispy strips in the fridge or freezer. Eat them immediately from the fridge because as soon as they get warmer they fall apart. But believe me, you won't have a problem with that!