Pumpkin/orange cheese cake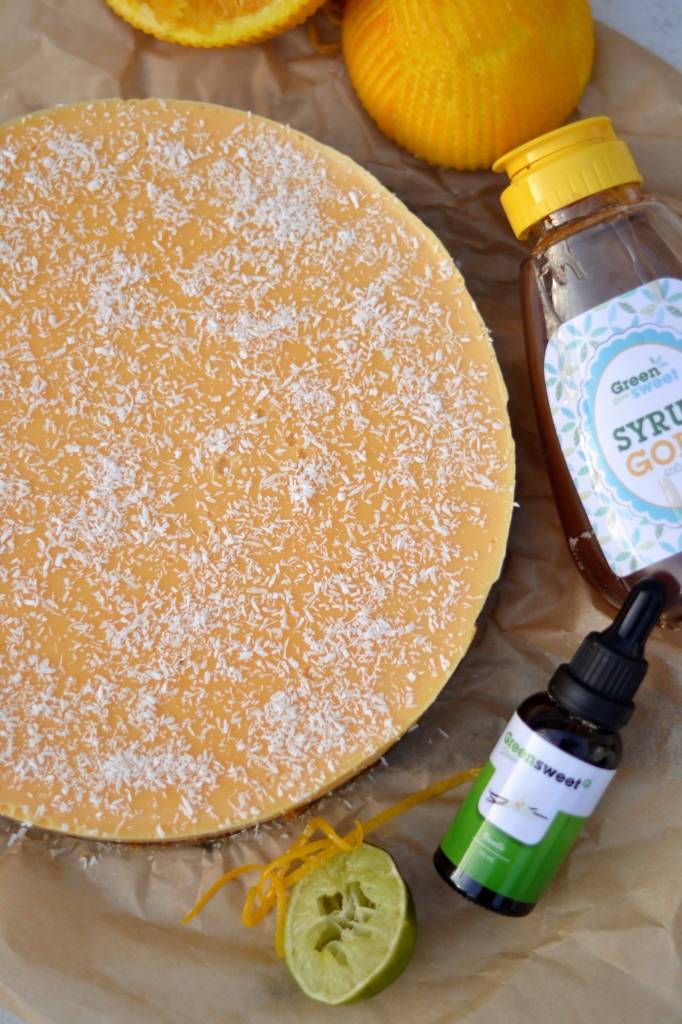 Minimum 8 pieces
What do you need:
Bottom:
75 grams of pecan nuts,
75 grams of almond flour,
140 grams of fresh dates or date paste,
pinch of Himalayan salt.
Filling:
350 grams (bottle) pumpkin (peeled and raw),
100 ml Green sweet syrup gold,
10-12 Greensweet Stevia liquid stevia Vanilla,
juice of 1.5 lime,
juice of 1 orange,
zest of orange,
400 ml coconut milk (from a can)
and 4 grams of agar agar.
Top:
2 tbsp grated coconut
How to make this cake:
Step 1 Take a 22 cm cake tin and line the bottom with baking paper. Grease the edges with vegetable butter. Also make sure you have space in the fridge.
Step 2 Place the raw pumpkin pieces in a saucepan with water and bring to the boil. Boil the pumpkin for about 15-20 minutes. Then drain and let cool.
Step 3 Place the pecan nuts in the food processor along with the fresh dates or date paste and almond flour. Switch on and when you have a sticky dough ball it is ready. Does it stay too dry? Then add a splash of water. Make sure it doesn't get too wet!
Step 4 Press the dough into your cake tin and put it in the fridge.
Step 5 Clean the food processor and add all the ingredients (except the agar-agar) for the filling. When you have an even 'smoothie' it is ready. Taste to see if it tastes like that.
Step 6 Pour the smoothie into a saucepan along with the agar-agar. Bring to a boil and keep stirring well. After a minute or two turn off the fire.
Step 7 Remove the cake tin from the oven and pour in the filling. Put in the fridge. After about 2-3 hours your cake will be hard.
Step 8 If you want to loosen the springform, it is best to loosen the edges with a wet knife. That way the cake won't tear. Finish with some grated coconut and cut the cake into the desired pieces.
The cake can be kept in the fridge for at least 3 days. Freezing is not recommended or you like to eat ice cream cake!
Source/photo: Manon de Wit