Waffles with summer fruit and chocolate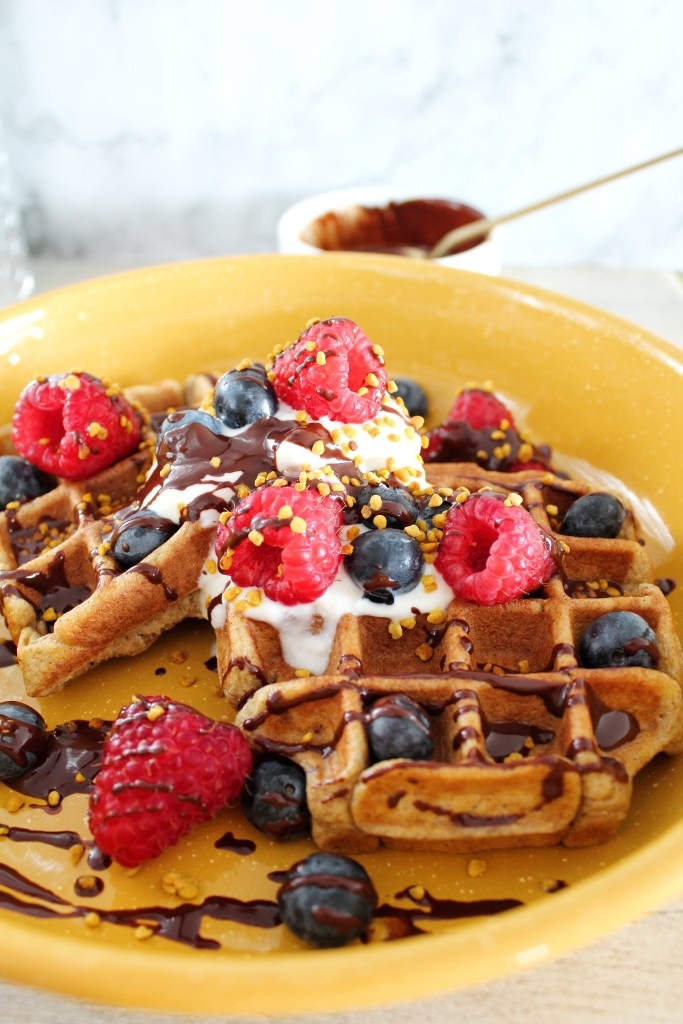 What do you need for 1 serving:
2 organic eggs
2 tbsp of organic Greek yogurt
1/2 tsp cinnamon or chai spice mix
2 tsp chickpea flour
1 tsp psyllium fiber
Coconut oil or ghee
Toppings:
15 grams of sugar-free chocolate chips, KoRo or use dark chocolate 70% or higher
1/2 tsp coconut oil
Greek yoghurt
Fresh raspberries, blueberries, strawberries, etc.
Bee pollen (optional)
This is how you make the gluten-free low-carb waffles:
Beat the eggs with the yogurt, syrup gold and herbs. Add the psyllium fiber and chickpea flour, stir well and let the batter stand for 10-15 minutes. Heat a waffle iron with some oil or ghee and divide the batter over the waffle iron. Bake the waffles for 5-7 minutes. Meanwhile, make the chocolate sauce by heating the chocolate chips with the coconut oil in a pan.
Place the waffles on a plate and garnish with the toppings and pour the chocolate sauce over it.