Apple-cinnamon pumpkin cake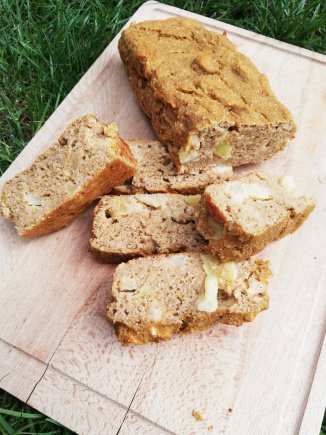 What do you need:
300 grams of pumpkin puree
80 grams of oatmeal
30 grams of coconut flour
30 grams of whey vanilla (you can substitute for oatmeal and vanilla extract)
10 grams of baking powder
1 small apple (approximately 125 grams)
4 grams of cinnamon
20 grams of Green Sweet stevia Erythritol
This is how you make it:
Heat the oven to 175 degrees and cover a baking pan with baking paper.
Mix all dry ingredients together and then mix all wet ingredients 1 in and through. I used a hand mixer so that it is well mixed. Finally, put the apple in small cubes through it. (you can just keep the skin on it, of course not)
You put the batter in the baking tin and then it goes in the oven for about 35 to 40 minutes. Allow the cake to cool in the cake tin for 10 minutes and then remove the cake. Let it cool well before you cut it, otherwise it will fall apart quickly. (I once again had no patience, so my slices didn't look so beautiful)
And your pumpkin apple cake is ready.