Apricot coconut cardamom cake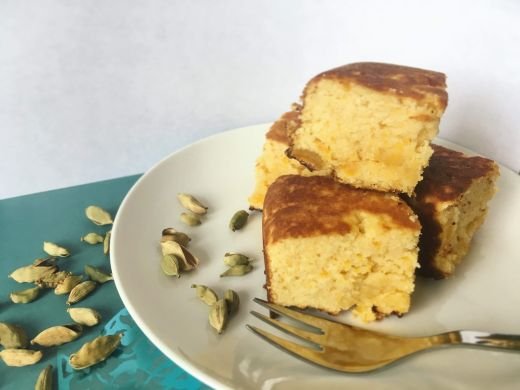 What do you need for 9 pieces:
85 grams of coconut flour,
80 grams of coconut oil
5 medium sized eggs
1 pinch of ground Himalayan salt,
150 grams of dried apricots
1 tablespoon Green Sweet Erythritol
1/2 tablespoon baking powder,
1 teaspoon cardamom powder,
1 fresh lime, its juice
Kitchen utensils: hand blender, small baking tin (15x15cm), whisk and oven.

This is how you make it:
The very first thing you want to do in this recipe is the apricot wellen. Weigh 150 grams of dried apricots and put them in a bowl. Pour boiled water over it and let it soak for at least half an hour (until they double in size). Then pour them off so that they are ready for use.
During the apricot wells you have plenty of time to weigh and prepare the remaining ingredients. Weigh all dry ingredients in a mixing bowl. Pre-heat your oven to 175 degrees Celsius. Prepare a small square baking tin, and grease it in advance.
Have the apricots doubled in size? Then the time has come. Drain them and puree them completely with the (rod) mixer.
Melt the coconut oil on a low heat until it is liquid.
Beat the eggs well foamy.
If you had not weighed this together in a bowl then this can be done together: coconut flour, Himalayan salt, Green Sweet Erythritol, baking powder, cardamom powder and ginger powder.
Mix the eggs, apricots and coconut oil well with a whisk until you get a smooth batter.


Pour it into a small baking tin, mine is about 15 by 15 centimeters.
Now place the cake in the middle of your oven for about 30 minutes. / or if you use the Airfryer like me. Then of course you don't have to pre-heat it. But you put the Airfryer with the cake tin in it at 160 degrees Celsius for about 20 minutes. I had already written about the Airfryer on Zo Mijntje. This device works faster than the normal oven, because this device is simply a great kind of mini turbo oven.
Check after 20 minutes through the saté skewer test if it is already done.
Saté skewer test: Prick a clean saté skewer in your cake and remove it again. Will the skewer come out clean without pieces of it or creamy cake batter? No? Yes! Then your cake is done. And quietly get out of the oven.
Tilt your cake when it is cooked, immediately careful to put it on a kitchen rack, to allow the cake to cool as quickly as possible.
Squeeze the juice from the lime. And sprinkle it over the cake ... so the cake gets "soaked" with an extra fresh taste of the lime.
Now your cake is completely ready and you can cut it into 9 pieces.

Enjoy your meal!


This recipe is gluten-free, sugar-free (apart from the natural sugars of the apricots) and high in fiber. It is therefore including the use of coconut flour in combination with all ingredients also very suitable as a treat for people with diabetes. Because it has a low glycemic index (GI) <- your blood sugar does not rise so quickly. Because apricots also help maintain normal blood pressure because they contain potassium.

Greetings and love,
Mine.

Ps Extra pampering tips -> If you are a fan of coconut, it might be nice to sprinkle the cake with some grated coconut. Or cover the top of the cake with some (sugar-free) apricot jam. And serve with a dot (coconut or cashew nuts) whipped cream!