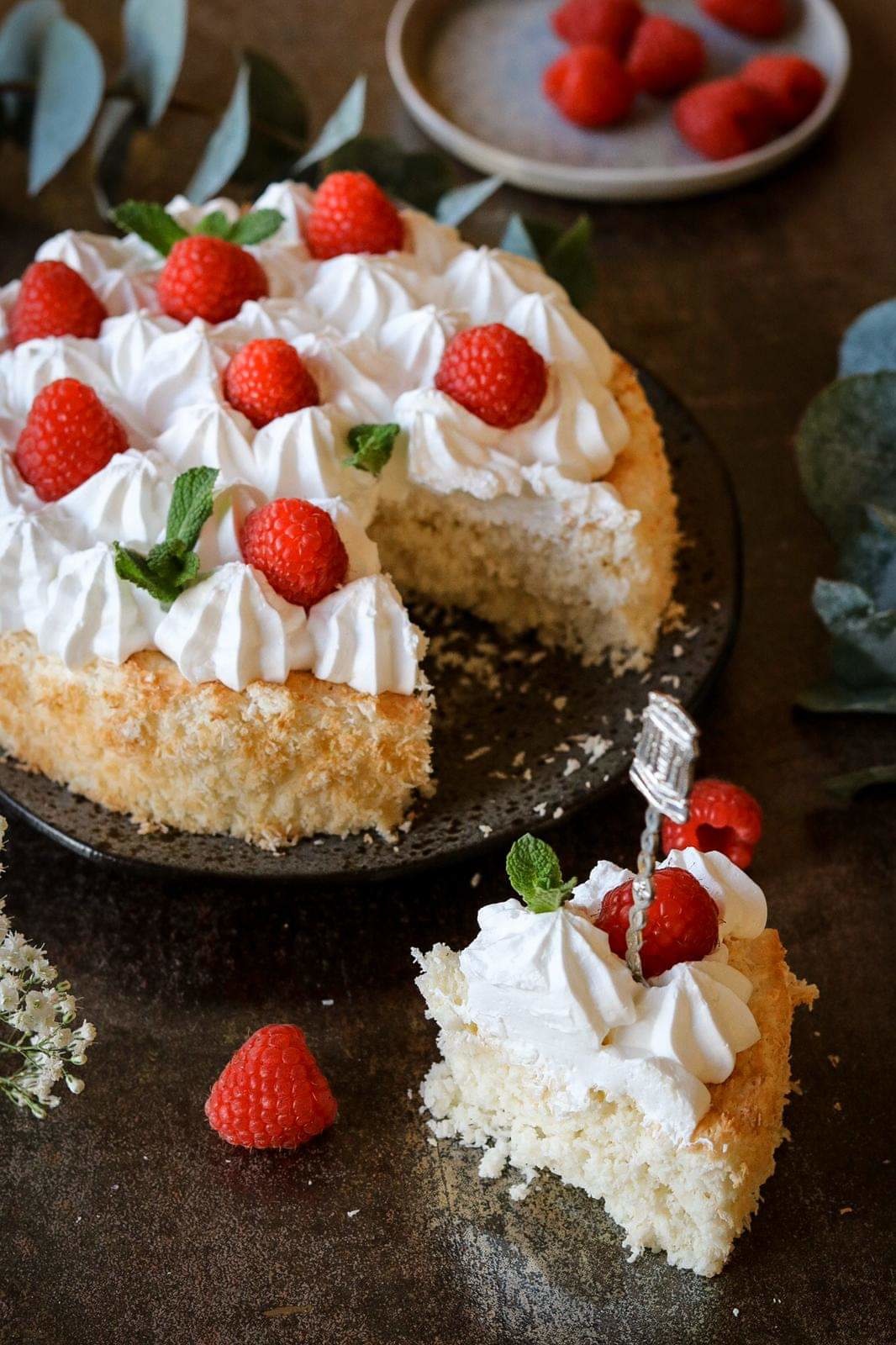 What do you need:
Springform pan dia 18 cm
For the coconut macaroon cake:
150 g coconut grater
120 ml egg whites (about 4 eggs) or 10 tbsp aquafaba (chickpea liquid) *
50 to 100 g Green Sweet Erythritol
60 g almond flour
50 g (lactose-free or vegetable) quark
25 g coconut oil
For the topping:
Soy whipped cream as desired
Raspberries
This is how you make this delicious cake:
Preheat your oven to 180 degrees. Put baking paper in the spring form and grease the sides.
Separate the whites from the yolks, use ready-made egg whites or use aquafaba for a vegetable version.
Using a food processor or mixer, mix the egg whites or aquafaba together with the erythritol or maple syrup on the highest setting until it is stiff.
Melt the coconut oil and stir in the curd cheese.
Mix the coconut with the almond flour and stir well.
Now fold all this carefully into the beaten egg whites or aquafaba.
Divide the coconut mixture over the bottom of the spring form and put it in the oven for 20 minutes.
Let the coconut macaroon cake cool down and decorate the coconut macaroon cake for an optimal party with whipped cream and a hint of lemon curd and raspberries.
Serve the cake with a smile and enjoy!
* AQUAFABA
It sounds strange, but aquafaba is simply the viscous moisture of beans in pots and cans (aqua = water, faba = bean). If you want to use aquafaba as a protein substitute, choose chickpeas or white beans. Other beans are not neutral enough in taste. You drain your chickpeas, as usual, but you collect the moisture in a bowl. Then you have a thick, protein-like stuff and - the word says it all - that's a protein substitute that you can use for everything from cocktails to cakes and from mayonnaise to meringues. For real! Chickpea water meringue, it's delicious.